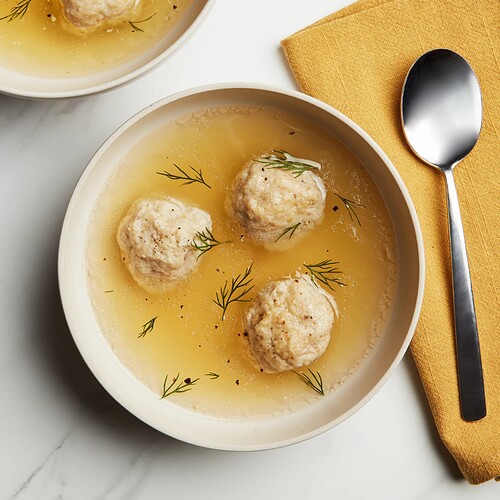 3 stalks celery, grated
1 large potato, grated
2 to 3 carrots, grated
1 large onion, grated
8 cups vegetable or chicken stock
½ cup pearl barley, rinsed and drained
salt and freshly ground black pepper, to taste
1 ½ cups frozen peas
1 tablespoon tub margarine
Matzo Balls (recipe to follow)
Instructions
Grater: Cut celery, potato, carrots and onion to fit feed tube of food processor. Use the grater disk attachment, making sure to use the smaller grate side, process all veggies using medium pressure. Place veggies in a large saucepan with stock, barley, salt and pepper.
Bring to a boil, reduce heat and simmer, partially covered for 1 ½ hours. Add peas and simmer 10 to 15 minutes longer. Adjust seasonings to taste. Add butter or margarine and cooked Matzo balls.
Quick notes
If you can't find pearl barley, you can use arborio rice instead. Keeps 3 day in the refrigerator. Reheats and/or freezes well, so you can make a lot!
Preparation time: 10 minute(s)
Cooking time: 2 hour(s)
Diet type: Vegetarian
Dietary restriction: Kosher
Number of servings (yield): 8
Calories: 310
Fat: 18.3g
Protein: 8 g
Rating 5 stars: ★★★★★5 review(s)
Copyright © The Hungry Wife.
Recipe: Matzo Balls
Summary: Simple and delicious dumplings to be used in your soup.
Ingredients
4 eggs
½ cup oil
1 cup matzo meal
½ teaspoon salt
½ teaspoon baking powder
Instructions
Combine all ingredients just until smooth. Place in refrigerator for 1 hour, or in freezer for 20 minutes, until thickened.
Shape the dough into small balls, wetting your hands for easier handling. Drop matzo balls into boiling salted water in a large pot and cook, partially covered for about 40 minutes.
Quick notes
Makes about 16 matzo balls. Keeps 3 days in the refrigerator. Freezes well. Place on cookie sheet to freeze, then transfer to freezer bags. You can also freeze cooked matzo balls in soup.
Variations
For lighter Matzo Balls: Use 2 eggs plus 4 egg whites. Reduce oil to 1/4 cup. One matzo ball contains 73 calories and 4.2 g fat.