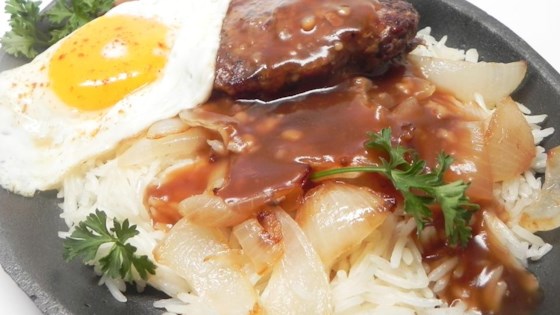 1 (8.8 ounce) pouch UNCLE BEN'S® Ready Rice® Jasmine
1 (.87 ounce) package less sodium brown gravy mix
1 pound extra lean ground beef
1 tablespoon olive oil
1 large onion, sliced
4 eggs
Prepare jasmine rice as directed on package.
Prepare brown gravy mix as directed on package and keep warm.
Divide ground beef into 4 servings and shape into patties.
Heat oil in large skillet over medium heat.
Saute onion until translucent, 8 to 10 minutes.
Push onions to sides of skillet. Place burger patties in center of skillet.
Pan fry until cooked throughout, about 4 minutes per side.
An instant-read thermometer inserted into the center should read 140.
Spray a separate skillet with non-stick cooking spray; set over medium-high heat.
Cook eggs until set, and turn.
Divide hot cooked rice into mounds on four plates.
Sprinkle each mound with 1/4 of sauteed onions.
Place 1 beef patty over each stack.
Ladle gravy over ground beef patty.
Place 1 over-easy egg over each patty/gravy.