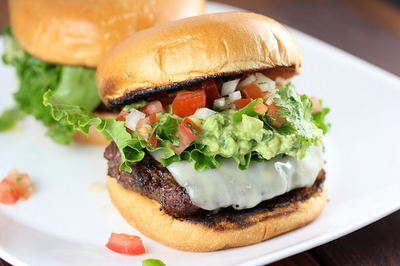 1 1/2 lbs ground beef
salt and pepper
4 slices white cheddar cheese
4 pieces of leaf lettuce
4 sesame seed buns
Pico de Gallo-
4 plum tomatoes (seeded and diced)
1 small white onion (finely chopped)
2-3 jalapeño peppers (seeded and chopped)
½ cup fresh cilantro (chopped)
1 tablespoon fresh lime juice
salt (to taste)
Guacamole-
3 ripe avocados (peeled and pitted)
The juice of 1 lime
1 teaspoon salt
½ cup onion (diced)
3 tablespoons fresh cilantro (chopped)
1 teaspoon fresh garlic (minced)
1 pinch cayenne pepper
To prepare the pico- In a bowl combine tomatoes, onion, peppers and cilantro.
Add lime juice and salt. Mix well. Cover and refrigerate for 1 hour.
To prepare the guacamole- In a medium bowl mash the avocados. Squeeze in or add lime juice.
Add salt. Mix in onion cilantro, tomatoes and garlic. Mix in cayenne pepper. Refrigerate for 1 hour.
Form the ground beef into 4 equal patties and season on both sides with salt and pepper.
Place the patties into a large skillet over medium-high heat.
Cook over medium-high heat, turning frequently until fully cooked (the internal temperature has reached 160).
During the last few minutes of cooking top each patty with a slice of A white cheddar cheese.
Cook until the cheese has melted.
Place each patty onto the bottom half of each bun.
Top with a piece of lettuce, some guacamole and pico de gallo.