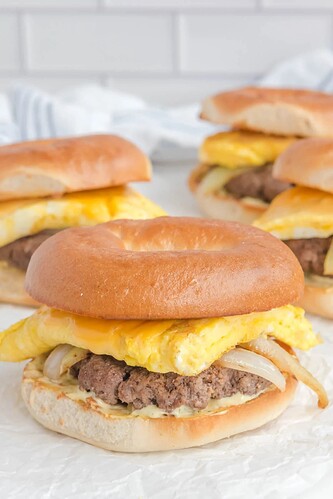 4 plain bagels sliced
5 tablespoons butter divided
½ white onion sliced
1 pound ground chuck
2 tablespoon Worcestershire sauce
½ teaspoon salt
½ teaspoon garlic powder
¼ teaspoon ground pepper
4 eggs
4 slices American cheese
¼ cup mayo
1 tablespoon yellow mustard
½ teaspoon dill
Separate the tops and bottoms of the bagels. Spread about ½ tablespoon of butter on either bagel piece. Place bagels butter side down inside a pan and cook over medium heat for 1 to 2 minutes or until lightly toasted. When done, set aside.
Add 1 tablespoon of butter and onions to a stovetop pan. Sauté onions for 2 to 3 minutes until transparent. When done, set aside.
Add ground chuck, Worcestershire sauce, and seasonings to a large mixing bowl. Mix with your hands until all ingredients are blended evenly. Press the mixture into one large ball.
Separate meat into 4 equal sections, forming flat, round patties by hand. Make patties about ½ inch thick (they will expand slightly while cooking.
Add patties to a stovetop pan over medium-high heat and cook on both sides for about 3 minutes or until fully cooked through. When done, remove the patties from the pan and discard the grease. Wipe the pan with a paper towel.
Whisk eggs together in a medium mixing bowl until fully mixed.
Reduce heat slightly. Spray the pan with nonstick cooking spray and pour eggs into the bottom of the pan.
Allow the eggs to cook flat for about 2 to 3 minutes. When the eggs are cooked on the bottom, use a spatula to fold the eggs halfway over, creating a half circle shape. Cook for another 1 to 2 minutes or until the eggs are cooked through.
Add 1 slice of cheese on either side of the eggs and cook until the cheese starts to slightly melt. Cut the eggs portion in half, creating quarter circle shapes. Remove from heat and set aside.
In a small mixing bowl, combine mayo, mustard, and dill with a fork. Mix well.
To assemble the sandwiches, spread the mayo mixture on all 8 faces of bagels. Top the bottom pieces of bagels with a steak patty, then onions, then with egg and cheese. Lastly, add the top bagel portion (already with mayo spread).