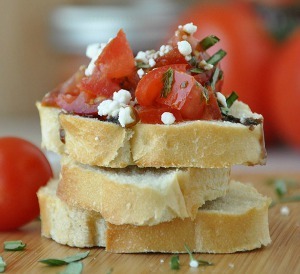 1 medium bakery baguette, sliced
2 cups of diced ripe tomato
2 cloves of fresh garlic, smashed and minced
1/4 cup of finely diced white onion
2 TBSP extra virgin olive oil
2 TBSP white balsamic vinegar
5 large basil leaves, chopped/sliced [plus extra for topping!]
1 tsp of fresh parsley, chopped
1/4 tsp salt
1/8 tsp garlic powder
a teeny sprinkle of dill
a few spoonfuls of crumbled feta
your favorite balsamic vinegar or sweet balsamic glaze [see below]
The above recipe makes just over 2 cups of bruschetta topping, enough for approx 18-20 toasts depending on the size of your baguette. Easily doubled, tripled, and quadrupled to feed a crowd!
Instructions
Pre-heat oven or toaster oven to 350 degrees F.
Combine chopped tomatoes, onion, and garlic in a small bowl.
Whisk together olive oil, white basalmic vinegar, basil, parsley, salt, garlic powder, dill and pour over the veggies.
Brush crostini with olive oil and toast using your oven or toaster oven, until golden brown. 5-10 minutes should do it!
Spoon bruschetta mixture over the toasts and sprinkle with basil, feta, and a hearty drizzle of balsamic glaze.
Commence faceplant.
Bruschetta mixture can be made up to four days ahead of time and whipped out at a moment's notice for impromptu snacking or an impressive party appetizer! I pretty much want this in my fridge at all times.