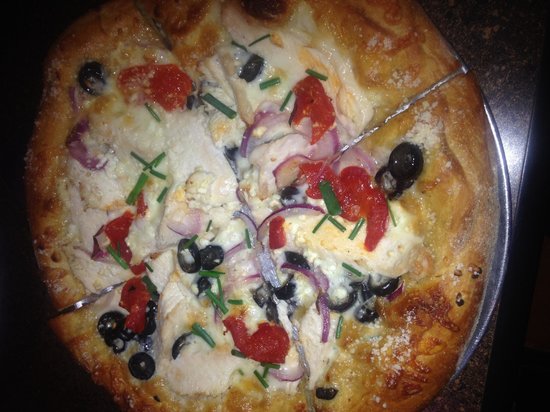 1½ cups very warm water
1 tbsp olive oil + extra for brushing crust
2½ tbsp molasses
4 tsp active yeast
3½ cups flour
4 tsp active wheat gluten
2 tsp salt
cornmeal
minced garlic
mozzerella cheese
cooked, chopped chicken breast
1 red onion, chopped
¾ cup crumbled feta cheese
garlic butter, melted (optional)
parmesan cheese (optional)
In a small bowl combine water, olive oil and molasses.
In a stand mixer combine flour, gluten, yeast, and salt.
Add water mixture to stand mixture and mix on low using dough hook for 30-60 second until combined.
Switch speed to medium for 12 minutes.
Form dough into ball and place in greased bowl.
Cover bowl with loose plastic wrap and let sit at room temperature for 2 hours.
Cut dough in two and roll each into a tight ball by folding the edges into the center. Allow dough to rest covered for 30 minutes.
Preheat oven to 450 degrees.
Form each ball into crust by stretching the dough in two hands while rotating it.
brush crust with olive oil and add minced garlic.
Top with chicken, onions, feta, and mozzerella cheese.
Bake 7-9 minutes until golden.
After removing from oven immediately brush crust with melted garlic butter and top with parmesan if desired.