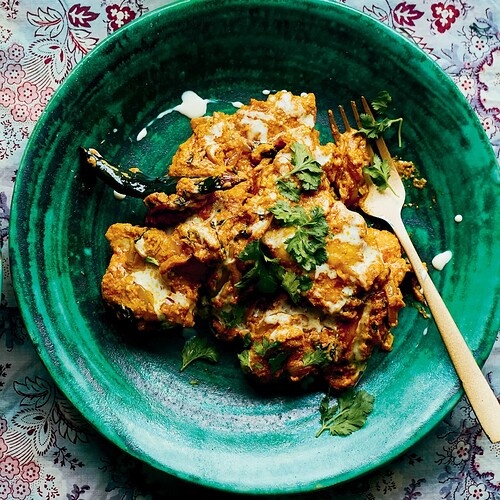 4 Tbsp. vegetable oil
2 onions, thinly sliced into half moons
1 1-inch (2.5 cm) piece of cassia bark
2 green cardamom pods
1 clove garlic
1 Indian bay leaf (tej patta)
2 dried red chiles
2 pounds 3 ounces (1 kg) boneless skinless chicken thighs
2–2½ inch (5–6 cm) piece of fresh ginger, grated
3 garlic cloves, crushed
1 tsp. ground turmeric
1 Tbsp. ground coriander
Scant 1 cup (200 g) full-fat Greek-style yogurt
1 tsp. dried fenugreek leaves (kasur methi)
1 tsp. salt
1 tsp. chile powder
4 Tbsp. tomato paste
½ tsp. sugar
To garnish (optional)
4 Tbsp. heavy cream (do add if you can!)
Handful of fresh cilantro leaves
Heat the oil in a heavy-based pot over medium–high heat. Add the onions and fry, stirring occasionally, for about 20 minutes until golden brown and caramelized. Use a slotted spoon to remove the onions, leaving as much of the oil in the pan as possible, and place on a plate to drain. Spread the onions across the plate so they crisp as they cool.
Add the cassia bark, cardamoms, clove, bay leaf, and red chiles to the pan, then add the chicken and cook over medium–high heat until golden brown all over.
Reduce the heat to medium, add the ginger and garlic, and stir for about 2 minutes until the garlic no longer smells raw. Add the turmeric and ground coriander and stir for a minute, then add the yogurt, followed by the fenugreek leaves. Do not let the yogurt boil—you should not need to add any water; the yogurt will prevent the spices from sticking to the base of the pan. Add the caramelized onions, salt, chile powder, and tomato paste and stir gently. Reduce the heat, cover, and simmer for 5 minutes.
Remove the lid, stir in the sugar until it has dissolved, then taste and adjust the seasoning. Increase the heat to medium–high and stir, uncovered, until the oil comes to the surface. Serve hot, garnished with cream and cilantro, if using.