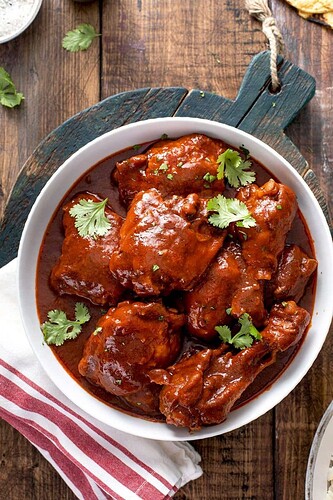 4 bone-in chicken legs
4 bone-in chicken thighs, skinless (or skin-on if preferred)
Salt and ground black pepper to taste
3 tablespoons olive oil, divided
Sauce:
1 small brown or yellow onion sliced
4 Roma tomatoes quartered
4 garlic cloves chopped
3 dried guajillo chiles stems and seeds removed
1 dried ancho chile or dried chipotle chile stems and seeds removed
2 dried pasilla or New Mexico chiles stems and seeds removed
2 1/2 cups chicken broth
2 tablespoons apple cider vinegar
2 teaspoons sea salt or Kosher salt
1 teaspoon ground cumin
1 teaspoon dried oregano
1/2 teaspoon dried coriander
1/4 teaspoon ground cloves
2 bay leaves
Chopped cilantro for garnish
To serve:
White rice
Spanish Rice
Corn or flour tortillas
Avocado slices
Pat the chicken dry with paper towels and season with salt and pepper to taste. Set aside while you make the sauce.
Stove Top Method
Make the sauce:
Heat 1 tablespoon of oil in a Dutch oven or large pot over medium-high heat. Add the onions and tomatoes and sauté, stirring occasionally for about 4 minutes or until the onions start to become translucent.
Sauteed veggies in a skillet
Stir in the garlic and cook for about a minute. Stir in the dried chiles and the broth and bring to a boil. Lower the heat to low and with a spoon, push the dried chiles down to make sure they are completely submerged in the broth. Cover the pot and simmer for about 10 minutes so the chiles softened.
Rehydrating dried chiles in a pot
Remove from the heat, uncover the pot and allow to cool at room temperature for about 5 minutes. Transfer the chiles and about half of their liquid to a blender. Add the apple cider vinegar, salt, cumin, coriander and ground cloves and blend at high speed for about 2-3 minutes or until smooth. Add the remaining cooking liquid and continue to blend until the sauce becomes smooth. Set aside.
Dried chile and vegetable mixture in a blender
Cook the Chicken:
Place the same Dutch oven or pot on the stove over medium-high heat (you want to let the pot dry up a bit before adding the oil to prevent splatters).
Heat the remaining 2 tablespoons of oil.
Once the oil is hot, add the chicken and brown for about 2-3 minutes per side. You may need to do this in 2 batches not to overcrowd the pot. If you need to, transfer the browned chicken to a plate and keep warm while cooking the next batch.
Sautéing chicken legs and thighs in a pot
Return all the chicken to the pot and add the sauce and bay leaves. Stir to combine. Bring to a boil then, lower the heat, partially cover the pot with the lid and simmer, stirring occasionally for about 45 minutes or until the chicken is cooked through. Add additional broth if needed.
Browned chicken covered in chile sauce inside a pot
Remove the bay leaves, season to taste and serve. Oven Method:
Chicken adobo in a pot
Stove Top + Oven Method
For your convenience and to keep this a one-pot recipe, use a Dutch oven or an oven safe pot.
Preheat the oven to 350 degrees Fahrenheit.
After browning the chicken, stir in the sauce and bay leaves. Bring to a boil then, cover the pot and transfer it to the preheated oven.
Bake for 40-45 minutes or until the chicken is cooked through and has reached an internal temperature of 165 Fahrenheit when checked with an instant read thermometer.
Remove from the oven, stir and season to taste. Remove the bay leaves and serve.