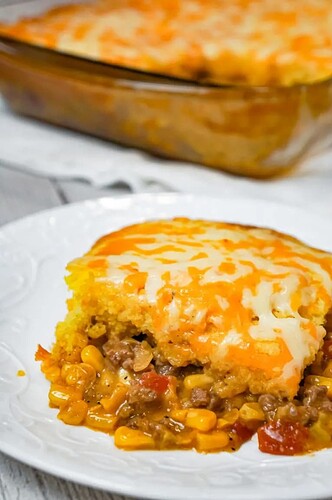 non-stick cooking spray
1 pound ground beef
1.25 ounces taco seasoning mix
17 ounces corn muffin mix 2 boxes, Jiffy is recommended
14 ounces canned cream-style corn
14 ounces canned corn
1 1/2 cups shredded cheddar cheese
4 ounces canned green chilies
Preheat the oven to 350°F, and lightly coat a 9×13-inch baking pan with cooking spray.
In a large skillet, cook the beef over medium-high heat until it browns.
Drain the beef, and add the taco seasoning per package directions.
In a large bowl, prepare the corn muffin batter per package directions (but do not bake it yet). Stir in half of the cream-style corn and half of the regular corn.
Spread half of the cornbread batter in the prepared baking pan and top with taco meat.
Mix together the remaining cream-style corn and corn kernels and spread that over the meat.
Sprinkle with half of the grated cheese and all of the green chilies.
Spread the remaining cornbread mixture on top.
Sprinkle with the remaining cheese.
Bake for 35 to 40 minutes, until the cornbread is baked through.
Let it sit for about 5 minutes. Then cut into squares to serve with any toppings you desire.