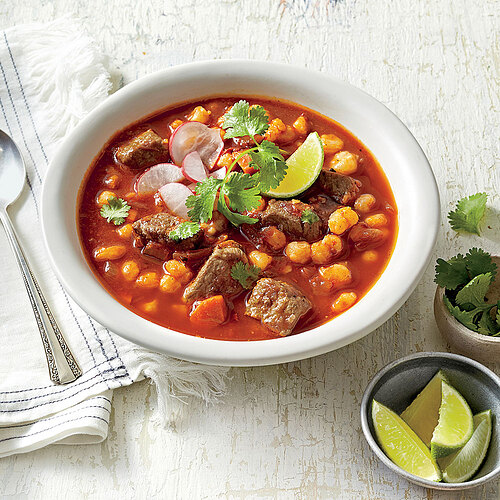 2 pounds boneless pork shoulder roast, chopped
2 tablespoons olive oil
2 cups chopped white onion
1 cup chopped carrot
1 tablespoon ground cumin
2 teaspoons kosher salt
1/2 teaspoon ground red pepper
1 teaspoon freshly ground black pepper
5 garlic cloves, coarsely chopped
3 (15.5-oz.) cans hominy, drained and rinsed
1 (28-oz.) can crushed tomatoes
4 cups unsalted chicken cooking stock, divided
2 dried ancho chiles
Lime wedges
Sliced radishes
Garnish: fresh cilantro
Sauté pork in hot oil in a large skillet over medium-high heat 6 minutes. Place pork in a 7-qt. slow cooker. Stir onion, next 8 ingredients, and 2 cups stock into slow cooker with pork.2. Microwave remaining 2 cups stock in a microwave-safe bowl on HIGH 3 minutes or until boiling. Add dried chiles, and let stand 10 minutes. Remove and discard tops of chiles. Process broth and chiles in a blender until smooth. Stir chile mixture into pork mixture. Cover and cook on LOW 7 to 8 hours or until pork is very tender. Serve with lime wedges and radishes.
Note:
We tested with Swanson Unsalted Chicken Cooking Stock.
Southern Living