Halloween is right around the corner so it's a good time to start thinking about pumpkin recipes. Today's Secret Recipe comes from Mexicano restaurant in Los Angeles. Mexicano is the creation of chefs Jaime Martín del Campo and Ramiro Arvizu. This upscale Mexican spot in the South Central mall offers new takes on classic eats and edgy cocktails.
In the fall they serve a delicious candied pumpkin that tastes great on its own, but can also be used as a filling in dishes like tamales and empanadas. Wedges of pumpkin are simmered to tenderness with a caramel-like glaze. This recipe calls for piloncillo which is an unrefined Mexican sugar. If you can't find piloncillo, you can substitute brown sugar.
We also have a great selection of pumpkin recipes on our forum: Go Here
Enjoy!
=-=-=-=-=-=-=-=-=-=-=-=-=-=
I was losing my memory, focus – and my mind!
And then… I got it all back again.
Discover How: Here
=-=-=-=-=-=-=-=-=-=-=-=-=-=
=-=-=-=-=-=-=-=-=-=-=
New Secret Recipe
=-=-=-=-=-=-=-=-=-=-=
Mexicano's Candied Pumpkin (Calabaza en Tacha)
Like this recipe? Check out our Restaurant Secret Recipes Cookbooks – Go Here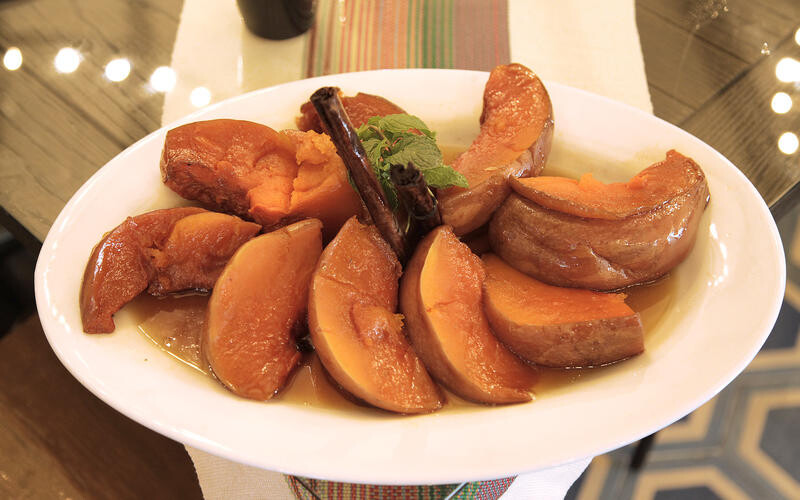 3 pounds piloncillo, or about 6 cups packed brown sugar
1 medium pumpkin, about 8 to 10 pounds
2 cups water
2 cinnamon sticks
4 cloves
Place the piloncillo into a wide, heavy pot, and pour over the water. Add the cinnamon and cloves, and bring the mixture to a simmer over medium heat, stirring occasionally until the piloncillo has fully dissolved, making a loose syrup. It will take 10 to 15 minutes.

While the piloncillo is dissolving, rinse the pumpkin clean. Cut the pumpkin into wedges or large chunks roughly 3 inches square. Some cooks remove the strings and seeds, some don't.

Once the piloncillo is dissolved into the water, remove the pot from the heat and begin adding the pumpkin pieces. Arrange the pieces leaving space in between so the syrup can be absorbed.

Cover the pot and place it over medium to medium-low heat until the pumpkin begins to soften, about 1 hour. Uncover and continue cooking until the liquid is reduced to a thick syrup and the pumpkin is richly colored and soaked with syrup, about 30 minutes more. Remove from heat and set aside until the pumpkin is cooled. The pumpkin will keep, refrigerated, up to 1 month.
Serves 12-15
Have a comment or question about this recipe? Post it here
Source: LA Times
Get more secret restaurant recipes on our Secret Recipe Forum: Go Here
Until Next Time… Be Well!
Kind Regards,
RSN