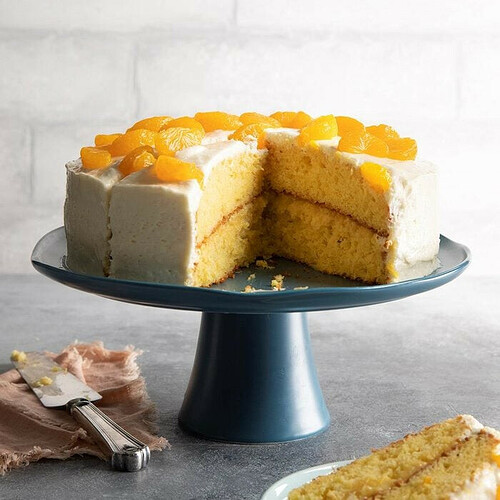 1 can (11 ounces) mandarin oranges, undrained
1 package yellow cake mix (regular size)
1-1/4 cups cold 2% milk
1 package (3.4 ounces) instant vanilla pudding mix
1 can (20 ounces) crushed pineapple, well drained
2 cups whipped topping
8 ounces cream cheese, softened
1/2 cup confectioners' sugar
1 teaspoon vanilla extract
Drain mandarin oranges and reserve liquid. Add reserved liquid to a liquid measuring cup (there should be about 1/2 cup) and fill with water to measure 1 cup. Prepare cake mix according to package directions, using the juice and water mixture in place of the water called for on the package. Bake in two greased 9-in. round baking pans according to package directions. Cool for 10 minutes before removing from pans to wire racks to cool completely.
In a large bowl, whisk milk and pudding mix for 2 minutes. Stir in pineapple. Spread 1 cup between cake layers.
In a small bowl, beat cream cheese, sugar and vanilla until smooth. Beat in 1 cup whipped topping. Fold in remaining topping. Spread on top and sides of cake. Cover and refrigerate for 3 hours or overnight. Decorate with mandarin oranges prior to serving.