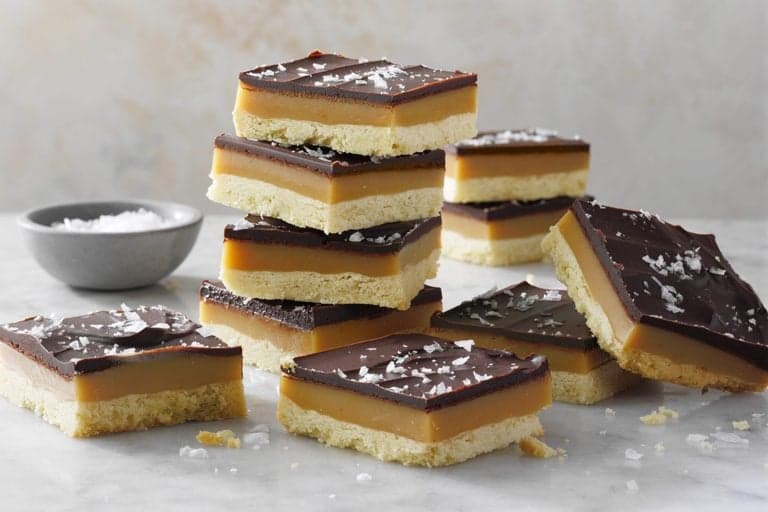 Shortbread:
3/4 Cup (1-1/2 stick) unsalted butter, room temperature
1/4 Cup granulated sugar
1/2 Teaspoon vanilla extract
1-1/2 Cups all purpose flour
1/8 Teaspoon salt
Caramel Filling:
1/2 Cup butter
1/2 Cup granulated sugar
2 Tablespoon light corn syrup
3/4 Cup sweetened condensed milk
Chocolate Topping:
12 Ounces semi-sweet or bittersweet chocolate, cut into pieces
1 Teaspoon unsalted butter
Garnish:
White Chocolate to drizzle
Preheat oven to 350 degrees F and place rack in center of oven. Butter or
use a cooking spray on a 9 x 9 inch pan.
For Shortbread: In the bowl of your electric mixer, or with a hand mixer,
cream the butter and sugar until light and fluffy. Beat in the vanilla
extract. Add the flour and salt and beat until the dough just comes
together. Press onto the bottom of prepared pan and bake for about 20
minutes, or until lightly golden in color. Remove from oven and place on a
wire rack to cool while you make the filling.
For Caramel Filling: Melt butter in a saucepan over medium heat. Add sugar,
corn syrup and condensed milk. Stir constantly until mixture begins to turn
light caramel color. This can take about 15 minutes. Remove from heat and
beat mixture until smooth and oil no longer separated from mixture.
Pour filling over the shortbread layer and allow to cool and firm. If oil
separates and forms on the surface light wipe with a clean paper towel once
firm.
FOR TOPPING: Melt the chocolate and butter either in the microwave oven or
in a heatproof bowl set over a saucepan of simmering water. Pour the melted
chocolate evenly over the caramel and leave to set. Cut the shortbread into
pieces using a sharp knife.
OPTIONAL GARNISH:Melt white chocolate and pipe or drizzle on top.
Store the shortbread in the refrigerator to keep the chocolate nice and
firm.
Yield: 16 - 2 inch squares