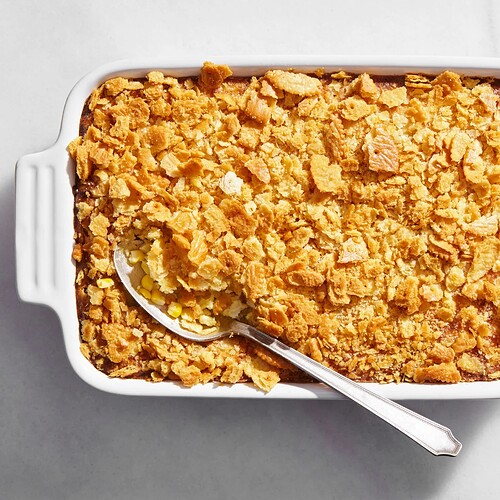 5 Tbsp. unsalted butter, melted and cooled slightly, plus more for greasing
2 large eggs, beaten
⅓ cup sugar
½ cup whole milk
¼ cup heavy cream
¾ cup sour cream
½ cup all-purpose flour
½ cup coarse yellow cornmeal
1 tsp. kosher salt
⅛ tsp. white pepper
⅛ tsp. paprika
⅛ tsp. baking soda
¼ cup chopped yellow onion
½ cup chopped celery
1 lb. fresh corn kernels, cut from 4 cobs
1 cup shredded cheddar cheese
1 cup butter cracker crumbs, such as Ritz
Set a rack in the lower third of the oven. Preheat the oven to 350°F. Grease a 9x13" casserole dish with butter, making sure to get in all the corners and sides of the dish.
In a medium bowl, whisk together the eggs and sugar until well combined. Add the melted butter, milk, heavy cream, and sour cream and whisk to incorporate.
In a large bowl, whisk together the flour, cornmeal, salt, pepper, paprika, and baking soda.
Using a spatula, fold the wet ingredients, 1 cup at a time, into the dry ingredients until well combined.
Fold in the onion, celery, corn, and cheese.
Pour the batter into the prepared baking dish and sprinkle the cracker crumbs on top. Bake the pudding for 30 to 40 minutes, rotating halfway through, until lightly browned on top and the tip of a knife inserted in the center comes out clean.