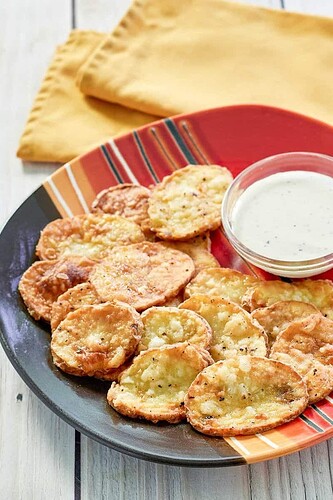 vegetable oil for frying
1/2 cup all-purpose flour
1/4 teaspoon salt
1 teaspoon garlic salt
3/4 teaspoon pepper
1/4 teaspoon celery salt
4 potatoes unpeeled, scrubbed, and cut into 1/2-inch rounds
1 egg beaten
ranch dressing or sour cream
Preheat the oil in a deep fryer to 375°F.
Mix the flour, salt, and spices in a shallow dish.
Dip the potato slices into the beaten egg, then into the flour mixture.
Deep fry in hot oil until golden brown, about 5 to 7 minutes.
Serve with ranch dressing or sour cream.
Notes
Do not let your grease get too hot or the potatoes will burn.
Shake off excess flour from the potatoes because too much flour may make the potatoes burn.
Cook the potatoes right away. If you do not, the potato slices may brown and look unappealing.