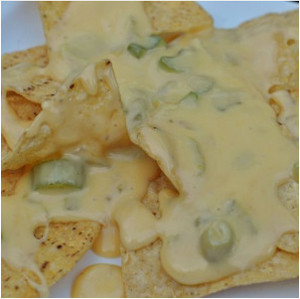 1 pound American cheese
1/2 cup chopped yellow onion
1/2 cup thinly sliced celery
2 large green peppers such as anaheim or hatch peppers, diced fine
1/3 cup milk
2 tablespoons butter
The real secret to a flavorful queso is sauteeing your vegetables until they are cooked almost all of the way through, you want there to be a tough of crunch when you begin to add in your American cheese. Place the choppped onion, thinly sliced celery, and diced peppers in a saute pan over medium heat, add the two tablespoons of butter, and saute until the onions are translucent. In a medium pot add American cheese, sauteed vegetables, and milk. Heat on a low to a medium heat until the cheese is melted.
Yield: approximately 2 1/2 cups