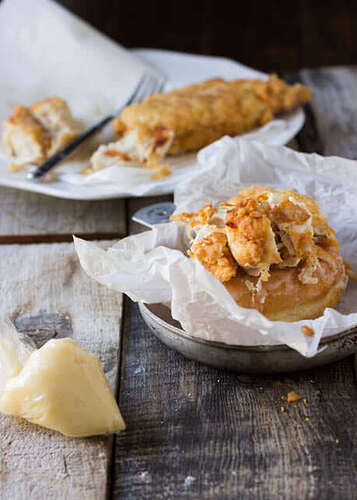 1 Can Pillsbury Grands Flaky Layers Biscuits, pulled apart in layers
Peanut or Canola Oil
2 Pieces Fried Chicken
FOR THE HONEY BUTTER
2 tablespoons Unsalted Butter, softened
1 Tablespoon Honey
FOR THE GLAZE
4 Tablespoons Whole Milk
2 Cups Powdered Sugar
FOR THE GLAZE
In a small bowl, whisk together the powdered sugar and milk. Set aside.
FOR THE DONUTS
Using a donut hole punch or a very small glass, cut out the center of each donut.
Fill a dutch oven or large sauce pan 1/3 the way full with oil. Heat to medium heat.
Add the donuts 2 at a time depending on space.
Cook until lightly golden on one side, carefully use a skewer to flip them over and cook on the other side.
Remove from the oil with a skewer to a paper towel lined plate.
Let the oil drip off for a moment and then drop into the glaze.
Use the skewer to pick up the donut and while keeping the donut on the skewer,
place each end on the edge of the bowl to allow the glaze to drip.
In a small bowl stir together the butter and honey.
Tear apart the chicken and pile on top of the donut, and top with honey butter.