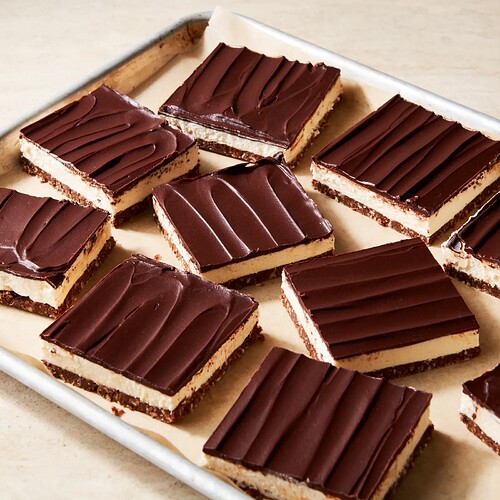 ½ cup unsalted butter
¼ cup white sugar
? cup cocoa powder
1 large egg, beaten
2 cups graham cracker crumbs
1¼ cups unsweetened shredded coconut
½ tsp. kosher salt
For the creamy middle:
1 cup unsalted butter
6 Tbsp. whole milk
2 Tbsp. custard powder
¼ tsp. kosher salt
4 cups icing sugar
For the chocolate topping:
1 cup dark chocolate chips
6 Tbsp. heavy cream
For the base, first prepare a double boiler on your stove: Fill a large pot about a quarter full of water and bring to a boil. Reduce the heat to a simmer and place a heatproof bowl overtop. Make sure the bottom of the bowl is not touching the water.
In the double boiler, melt the butter, sugar, and cocoa powder, mixing regularly until smooth. Add the egg, stirring constantly until the mixture has just started to thicken a bit, about 1 to 2 minutes.
Remove the bowl from the heat and stir in the graham cracker crumbs, coconut, and salt.
Line a 9 x 13 inch baking pan with parchment paper. Spoon the graham cracker mixture inside, press it down firmly and evenly, and refrigerate until solid, about 2 hours.
For the creamy middle layer, in a stand mixer with the paddle attachment, whip the butter until light and airy, about 2 minutes on medium speed.
Add the milk, custard powder, salt, and icing sugar and mix on low speed until all the ingredients have been incorporated. Increase the speed to medium and whip until light and fluffy, about 5 minutes. Pour this creamy mix onto your solid base, make sure it's evenly spread out, and refrigerate for about 2 hours.
For the chocolate topping, melt the chocolate and cream together in a double boiler over low heat, stirring constantly. When the chocolate has melted, remove from the heat and let rest for about 5 to 10 minutes. You want the temperature to come down but still keep the chocolate completely melted. Pour this over the cream layer and, using a rubber spatula, spread it out evenly. Chill in the fridge for at least 3 hours before serving.