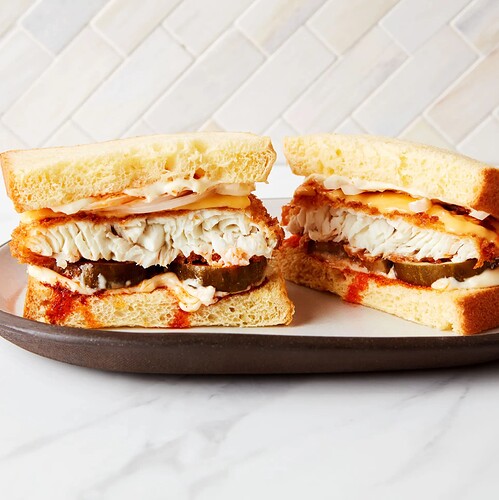 5 cups (1.25 L) canola oil
⅓ cup (75 g) roughly chopped Scotch bonnet chiles
¼ cup (50 g) roughly chopped bird's eye chiles
⅓ cup (75 g) roughly chopped jalapeño chiles
1 pound (480 g) unsalted butter
⅓ cup (50 g) ground cayenne
⅓ cup (50 g) smoked paprika
1 cup (150 g) all-purpose flour
1 teaspoon kosher salt, plus more for seasoning the fish
6 eggs
2 cups (300 g) panko bread crumbs
1½ pounds (680 g) halibut fillets, cut into (4-ounce / 115 g) portions
6 potato rolls (preferably Martin's) or 12 slices slices white bread (preferably Japanese milk bread)
½ cup (120 ml) mayonnaise (preferably Duke's)
¾ cup (180 g) bread and butter pickles
6 slices American Kraft Singles
⅓ cup (120 g) sliced white onion
In a large pot over high heat, combine 1 cup (240 ml) of the canola oil and the Scotch bonnet, bird's eye, and jalapeño chiles and cook until a deep-fry thermometer reaches 350°F (175°C). Turn off the heat and let steep for 30 minutes. Working in 2 batches, pour into a blender and blend until smooth. Pass through a fine chinois or strainer into a medium pot. Heat again, then add the butter, cayenne, and paprika and stir with a whisk. Set aside and keep warm.
In a large Dutch oven, heat the remaining 4 cups (800 ml) canola oil over medium-low heat to 320°F (160°C).
Mix the flour and salt in a medium bowl, whisk the eggs in another medium bowl, and put the panko in a third medium bowl. Dust a piece of fish in the flour, then dip in the eggs, then coat in the panko. Place on a wire rack set over a baking sheet. Repeat with the remaining halibut.
Once the oil has come up to temperature, use a spider to carefully lower 2 pieces of the breaded halibut into the oil. Cook until golden and the internal temperature is 275°F (135°C), 4 to 6 minutes. Scoop out the fish and rest on a baking sheet with a rack set on it. Repeat with the remaining halibut and spoon the hot chile oil over it until the fish is covered and glossy.
Build your sandwiches: Lay out the bottom bread, mayo, then pickles, the halibut, followed by the cheese and onion slices. Slather mayo on the top bread and squish the sando down.