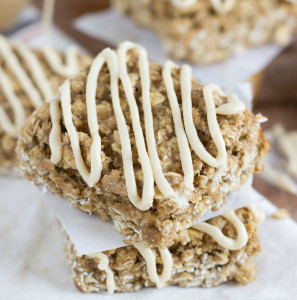 Bars
1 and 1/2 cups old-fashioned oats
1/2 cup oat flour blend regular oats in the blender
3/4 cup white whole wheat flour or sub white
1 teaspoon baking soda
1/4 teaspoon baking powder
1/4 teaspoon salt
1 teaspoon cinnamon or more to taste
1/2 cup + 2 tablespoons brown sugar
2 teaspoons vanilla extract
1/2 cup unsweetened almond milk or sub another milk
1 large egg
Molasses Frosting
1/4 cup butter softened (do not melt)
1/3 cup brown sugar
1-2 tablespoons milk
1/4 teaspoon vanilla extract
1 cup + 2 tablespoons powdered sugar
For the bars:
Preheat the oven to 350 degrees F. Line an 8 x 8 baking pan with parchment paper.
It will be near impossible to get out if you don't use it.
Combine the oats, oat flour, white whole wheat flour, baking soda, baking powder, salt,
cinnamon, and brown sugar in a large bowl.
Stir until combined.
In a small bowl, combine the vanilla extract, milk, and large egg.
Lightly beat with a fork.
Mix together the dry and wet ingredients until just combined (do not overstir).
The mixture will be very thick and wet.
Press the mixture into the parchment lined pan.
Press until it it evenly spread throughout the pan.
Bake for 15-18 minutes or until the center is slightly inflated and the edges are lightly browned.
For the frosting:
Combine all of the ingredients in a medium sized bowl starting with only 1 tablespoon of milk.
Beat until completely combined.
Add extra milk until you reach the desired consistency.
Remove the baked squares and let cool completely before cutting into 9-12 squares.
Once they are cut into squares, place the glaze mixture into a resealable plastic bag.
Cut off the tip of the bag and pipe the glaze on the top of the bars.
Sometimes these bars can be a bit crumbly and you may want to refrigerate them.
Always store these in an airtight container or they will dry out.