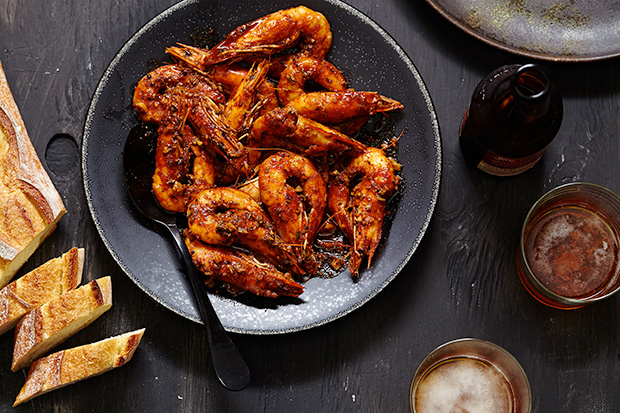 1 tablespoon unsalted butter
1 teaspoon finely chopped garlic
1 pound jumbo Louisiana shrimp, peeled, leaving heads and tails on
3 tablespoons Worcestershire sauce
1 tablespoon Crystal hot sauce
Juice of 1 lemon
2 teaspoons Creole seasoning
1/2 teaspoon kosher salt, plus more to taste
1 teaspoon cracked black pepper
1 cup Abita or other amber beer
1 teaspoon minced rosemary leaves
1 loaf French bread, thickly sliced on the diagonal and warmed
In a large skillet over medium heat, melt the butter and sauté the garlic until lightly browned and fragrant, 1 to 2 minutes. Add the shrimp and cook for 1 minute on each side. Increase the heat to high and add the Worcestershire sauce, hot sauce, lemon juice, Creole seasoning, salt, and pepper. Sauté for 2 minutes, then remove the shrimp from skillet.
Add the beer and rosemary and stir to deglaze the pan. Cook until reduced by half, about 5 minutes. Return the shrimp to the pan and quickly toss to coat the shrimp in the sauce, but do not overcook. Serve immediately with the bread.
Epicurious