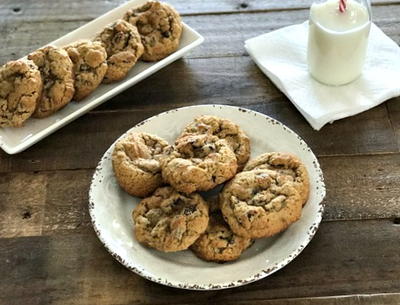 1 cup cold unsalted butter or vegan margarine. cut into chunks
1 cup packed light brown sugar
1/2 cup pure cane sugar
2 large or extra large cold eggs
1½ cups cake flour
1½ whole wheat pastry flour
1 tsp corn starch
1 tsp baking soda
1 tsp vanilla extract
½ tsp fine sea or kosher salt
1 cup dark chocolate chunks or large chocolate chips
1 cup semisweet or bittersweet chocolate chips
1/2 – 3/4 cup chopped walnuts
Preheat oven to 400 degrees, line a cookie sheet with a Silpat or parchment paper.
Set aside.
In a large mixing bowl, using a hand held mixer or stand mixer, cream together cold
butter or margarine with sugars until combined and creamy.
Don't over mix. We still want to keep the butter mixture on the cold side.
Add in eggs one at a time along with vanilla extract.
In another large mixing bowl, combine flours, corn starch, salt and baking soda
with a whisk to make sure there's no lumps. Slowly add to butter mixture.
Mix just until combined. Try not to over mix the batter.
Finish mixing with a sturdy rubber spatula or wooden spoon.
Dig down deep to incorporate all dry mixture from the bottom of bowl.
Add in chips and chunks and walnuts if using. Mix gently yet firm to get all the yummy chocolate well incorporated.
Using a large cookie or ice-cream scoop, make large balls.
If batter is too soft to roll in your hands. Scoop and place on cookie sheet.
I only put 4 on a sheet.
Place cookie sheet in freezer for up to 30 minutes.
Take out and shape balls so that they are all the same size and uniform.
This step is very important no matter if the batter is soft or firm for
the cookies to come out the way they should.
They can be in the freezer up to 1 hour if needed but minimum 30 minutes.
Bake for 11-13 minutes on upper rack. After 5 minutes, turn pan around.
Check after 11 minutes. Cookies should still be a little soft in the middle.
Take out and let cool on baking sheet for 10 minutes or so.
Transfer over to a cooling rack. Let set up for another 10 minutes.