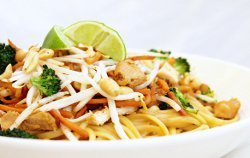 1-2 Lbs. chicken, cut into thin strips
vegetable oil
1 Tbsp Sriracha chili sauce
juice of 1 lime
3 cloves garlic, pressed
1 Tbsp. fresh ginger, minced
3-4 shakes soy sauce
salt & pepper (to taste)
16 oz. (1 pkg.) linguine noodles
shoestring carrots
broccoli florets, chopped
green onion
bean sprouts
peanuts
2-3 limes, sliced
PEANUT SAUCE:
1 c. chicken broth
6 Tbsp. (heaping) creamy peanut butter
2-4 tsp. Sriracha chili sauce - depending on how hot you like it
3 Tbsp. honey
6 Tbsp. soy sauce
3 Tbsp. fresh minced ginger
4-5 cloves garlic, pressed or minced
In a large skillet, saute chicken in oil, Sriracha, lime, garlic, ginger, soy sauce, salt & pepper. While chicken is cooking, prepare the linguine (to al dente) and make the peanut sauce. After the chicken is cooked, remove from the skillet and wrap in foil to keep warm.
Re-oil the skillet, add vegetables and saute (except for the bean sprouts, add those a few minutes before serving so they are still nice and crunchy and don't get overcooked). Add the chicken and bean sprouts to the skillet, cover, and reduce heat.
Drain noodles and stir them together with the peanut sauce. Top with veggies & chicken and garnish with peanuts and limes.
FOR THE PEANUT SAUCE: Combine chicken broth, peanut butter, chili sauce, honey, soy sauce, ginger, and garlic in a small saucepan over medium-low heat until sauce becomes smooth and well blended.