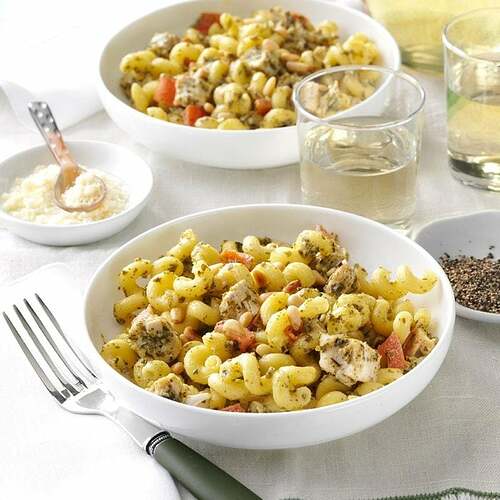 1 lb. cavatappi pasta or other small pasta
Salt
1 T. olive oil
1 large tomato, cored and diced
½ c. dry white wine
¼ c. heavy whipping cream
1 c. homemade or purchased pesto
1 c. shredded Parmesan cheese
In a large saucepan or stock pot, bring 4 quarts of water to a boil. Add pasta and 1 T. salt and cook until al dente, about 10 to 12 minutes. Drain well.
Meanwhile, heat 1 T. olive oil in a large skillet over medium-high heat until shimmering. Add tomatoes and cook for about 5 minutes, until some of the liquid has been released and the tomatoes are heated through.
Stir in the wine and cream and bring to a boil; reduce heat to medium and cook until the sauce has thickened slightly, about 2 minutes.
Add pesto and stir until heated through, about 2 minutes. Add pasta and toss until uniformly coated in the sauce. Transfer to a serving dish or individual plates and garnish with Parmesan cheese.