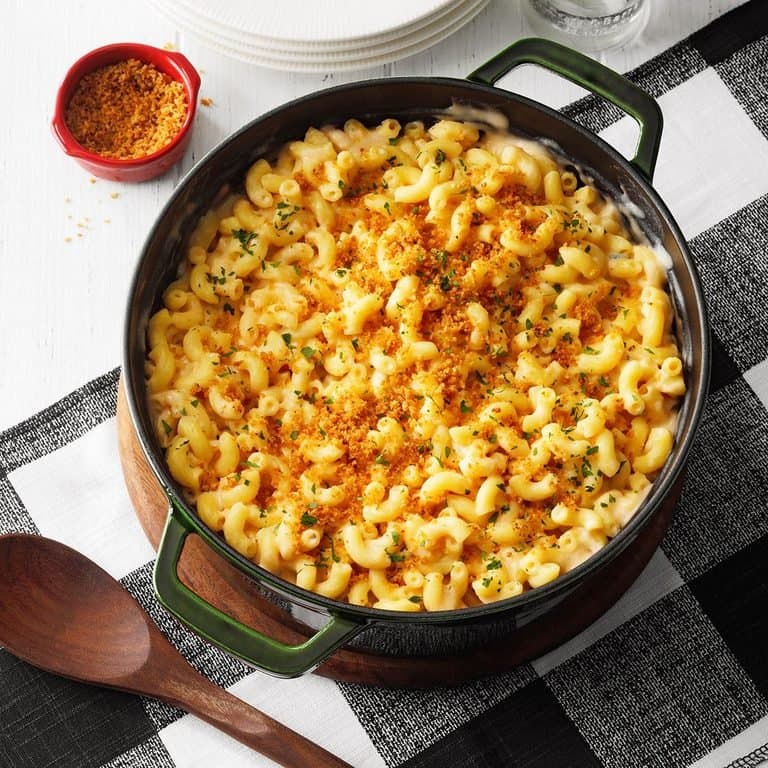 1 package (16 ounces) uncooked elbow macaroni
5 tablespoons butter, divided
3 tablespoons all-purpose flour
2-1/2 cups 2% milk
1 teaspoon salt
1/2 teaspoon onion powder
1/2 teaspoon pepper
1/4 teaspoon garlic powder
1 cup shredded part-skim mozzarella cheese
1 cup shredded cheddar cheese
1/2 cup crumbled Gorgonzola cheese
3 ounces cream cheese, softened
1/2 cup sour cream
1/2 cup seasoned panko bread crumbs
Minced fresh parsley, optional
Cook macaroni according to package directions; drain. Meanwhile, in a Dutch oven, melt 3 tablespoons butter over low heat. Stir in flour until smooth; gradually whisk in milk and seasonings. Bring to a boil, stirring constantly; cook and stir 2 minutes or until thickened.
Reduce heat; stir in cheeses until melted. Stir in sour cream. Add macaroni; toss to coat. In a small skillet, heat remaining butter over medium heat. Add bread crumbs; cook and stir until golden brown. Sprinkle over top. If desired, sprinkle with parsley.