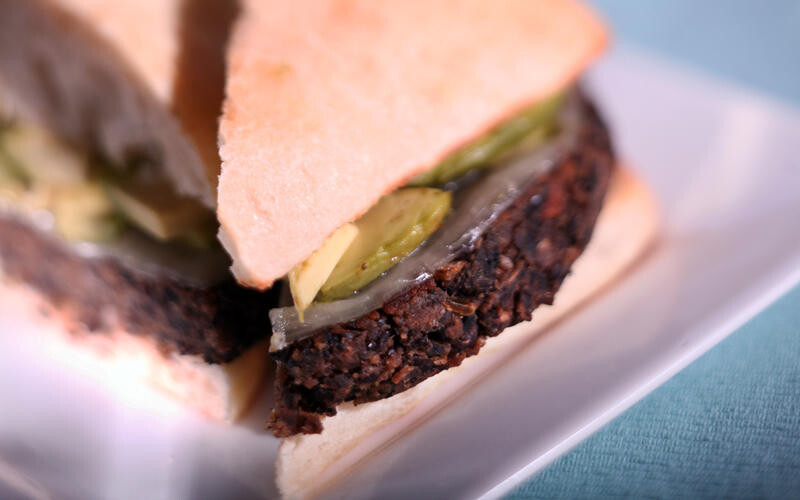 Pico de gallo:
3/4 cup finely diced tomatoes, from about 2 tomatoes
1/4 cup finely diced onion
2 packed tablespoons (from 1/8 bunch) roughly chopped cilantro
2 tablespoons finely chopped canned jalapenos with juice
1 tablespoon minced garlic
Juice of 1/2 lime
1 tablespoon vegetable oil
1/8 teaspoon Tabasco, or other vinegar-based hot sauce
1/4 teaspoon salt, plus more to taste
In a large bowl, combine the tomatoes, onion, cilantro, jalapenos, garlic, lime juice, vegetable oil and Tabasco. Stir in one-fourth teaspoon salt. Taste, and adjust seasonings and flavorings as desired. This makes 1 generous cup of pico de gallo.
Veggie burgers and assembly:
4 cups cooked black beans, from about 2 1/2 (15-ounce) cans (drained)
1/4 cup honey
1/4 cup molasses
2 teaspoons salt, more to taste
1 tablespoon cumin, more to taste
1/4 cup plus 1 tablespoon olive oil, plus more to sauté the burgers
1/2 cup finely diced onion
9 ounces portobello mushrooms, cut into 1/4-inch pieces (about 4 cups)
1 cup pico de gallo
3 cups panko bread crumbs
Semolina flour for dusting
Sliced cheese, if desired
Sliced toasted ciabatta rolls
Heat the oven to 350 degrees F. In a food processor, lightly pulse the black beans, honey, molasses, salt and cumin. Remove the bean mixture to a large bowl.
Heat a large sauté pan over medium-high heat until hot. Add the one-fourth cup plus 1 tablespoon oil, then stir in the onion and diced portobello mushrooms. Cook until the onion is softened and caramelized and the mushrooms have rendered their juice and are darkened, about 15 minutes, stirring frequently.
Stir in the pico de gallo, scraping any flavoring from the base of the pan. Remove from heat and cool, then add to the large bowl with the black bean mixture, stirring to fully incorporate.
Stir in the bread crumbs, kneading to form a cohesive mixture.
Taste, and adjust the seasonings as desired. Divide the mixture into eighths, forming each into a patty. Lightly dust each patty with semolina flour.
Place the patties on a greased baking sheet. Bake the patties for 15 minutes to warm and set the filling, then remove from heat. (The patties can be made up to this point and frozen: Cool the patties, then individually wrap and freeze. Thaw before continuing.)
Before serving, heat a skillet over medium-high heat until hot. Add a thin film of oil, then add 1 to 2 patties (do not crowd the pan).
Sear on each side until the patties are crisp on both sides and warmed throughout, 4 to 6 minutes total. If desired, melt cheese on top of each patty.
Garnish as desired and serve on the toasted ciabatta rolls.