Today's recipe hails from Novo Restaurant, situated by a picturesque creek in San Luis Obispo, California. Their Thai green chicken curry is a delectable dish that boasts a rich and flavorful soup-like consistency. For a complete meal, serve it alongside white rice and flatbread.
It's worth mentioning that the recipe requires Laos powder, which is also referred to as ground galangal root. This spice resembles ginger root and is commonly used in Thai and Indonesian cuisine. You can purchase it at a Thai market or order it online.
=-=-=-=-=-=-=-=-=-=-=-=-=-=-=-=-=-=-=-=-=-=
The Alpine Secret For Healthy Weight Loss.
=-=-=-=-=-=-=-=-=-=-=-=-=-=-=-=-=-=-=-=-=-=
=-=-=-=-=-=-=-=-=-=-=-=-=
New Secret Recipe Alert
=-=-=-=-=-=-=-=-=-=-=-=-=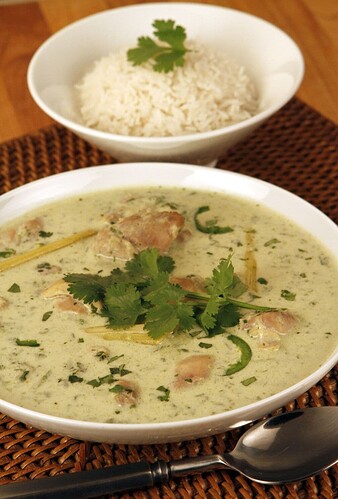 Ingredients:
Thai green curry paste:
2 Serrano chiles, seeded
1/2 onion
1/4 bunch cilantro
Rind of 1/4 lemon
1 teaspoon black pepper
1 tablespoon chopped garlic
3/4 teaspoon salt
Scant 2 teaspoons ground coriander
Heaping 1 teaspoon ground cumin
Heaping 1 teaspoon ground galangal aka Laos Powder
Heaping 1 teaspoon turmeric
1/4 cup canola oil
Coarsely chop the chiles, onion, cilantro and lemon rind, and place them in a blender. Add the black pepper, garlic, salt, coriander, cumin, Laos powder and turmeric.

With the blender running, slowly add the canola oil to make a paste. This makes a generous cup of curry paste, more than is needed for the remainder of the recipe. The paste can be frozen, then thawed as needed to be used in recipes.
Thai green chicken curry:
2 (14-ounce) cans coconut milk
1/2 cup Thai green curry paste, more if desired
2 stalks lemon grass, cut into about 2-inch pieces and smashed (with a mallet or the heel of a knife)
2 tablespoons fish sauce
1 1/2 teaspoons salt
2 1/2 pounds chicken thigh meat (from 4 to 5 pounds whole thighs)
2 jalapenos, seeded and chopped
1/2 bunch fresh cilantro, chopped
Cooking Instructions:
In a large, heavy-bottomed pot, whisk together the coconut milk, curry paste, lemon grass, fish sauce and salt. Add the chicken and bring to a simmer over medium heat. Cook, gently simmering, until the chicken is tender, 30 to 45 minutes.

Taste, adding additional curry paste if desired, and adjusting the seasonings and flavorings if needed. Remove the lemon grass pieces (or ask your guests to refrain from eating them). Stir in the jalapenos and cilantro before serving. This makes about 8 cups of curry. Ladle the curry into bowls.
Serves 6-8
Source: LA Times
Until Next Time… Be Well!
RSN