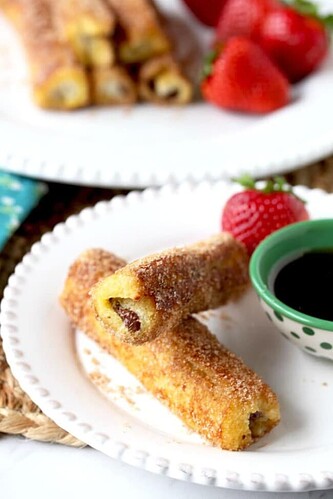 8 white or wheat bread slices
4 tablespoons Nutella
1/4 cup milk
1 large egg (or 2 medium eggs)
2 tablespoons sugar
1/4 teaspoon vanilla extract
3 tablespoons sugar
1 teaspoon cinnamon
3 tablespoons butter
Maple syrup for serving (optional)
Trim the crusts off the bread. With a rolling pin, roll each slice of bread until flattened.
Spread each slice of bread with a layer of Nutella (about 1/2 tablespoon per slice), and tightly roll up the bread slices.
In a small shallow bowl, whisk together the milk, egg, sugar and vanilla. Set aside.
In a separate small shallow bowl, mix together the sugar and cinnamon and set aside.
In a large nonstick saute pan over medium heat, melt the butter. Dip each Nutella French Toast roll-up in the milk and egg mixture. Place the roll-ups in the pan and cook for about 2 minutes, turning them as needed until they are golden brown and slightly crisp on all sides. Repeat until all the roll-ups are sauteed.
Immediately after removing the roll-ups from the saute pan, roll them through the cinnamon-sugar mixture until all sides are coated. Serve them warm with some maple syrup on the side.