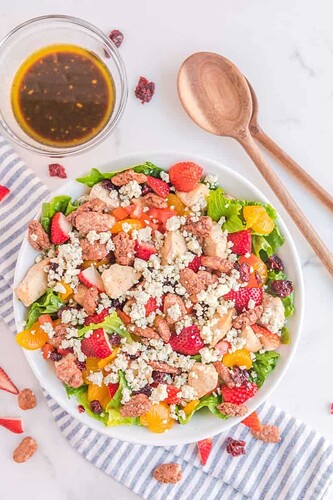 Dressing
½ cup olive oil
¼ cup balsamic vinegar
1 teaspoon honey
1 teaspoon brown sugar
1 teaspoon minced garlic
½ teaspoon salt
½ teaspoon pepper
Salad
1 tablespoon olive oil
1 pound boneless skinless chicken breast
1 teaspoon salt
½ teaspoon ground black pepper
3 cups shredded romaine lettuce
½ cup mandarin oranges drained
2 roma tomatoes diced
½ cup fresh strawberries sliced
¼ cup dried cranberries
⅓ cup candied pecans
⅓ cup blue cheese crumbles
In a small mixing bowl, blend together all ingredients for the dressing. Set to the side until ready for use.
Cut the chicken into bite-sized cubes.
Over medium heat, add olive oil to a medium-sized cooking skillet. Allow oil to heat up for about 2 to 3 minutes.
Add chicken, salt, and pepper to the skillet and cook for 6 to 8 minutes, tossing frequently, until the chicken is cooked through. When done, remove from heat and allow to cool.
Place the lettuce in a large salad bowl.
Top with oranges, tomatoes, strawberries, cranberries, pecans, and blue cheese crumbles.
Toss to combine all the salad ingredients.
Just before serving, pour the dressing over the salad and toss it to combine. Or you can serve the dressing on the side.