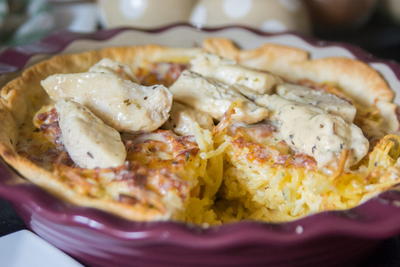 1 package (16 ounces) of spaghetti noodles
1/2 cup cooked pancetta
1-2 cups of homemade Alfredo (see comments for Alfredo recipe suggestions)
2 cups Italian cheese shredded cheese blend
1/2 cup grated parmesan cheese
1 refrigerated pie crust (or homemade if you really want)
1 to 1 1/2 lb chicken breast, sliced
Olive oil
Salt
Pepper
Garlic Powder
Italian Seasoning
Preheat oven to 350 degrees.
Bring a pot of water to a boil and put noodles in. Cook until al dente.
While cooking, put a pastry pie shell into a deep dish pie pan.
Drain the excess water from the pasta and then add in 1 1/2 cups shredded Italian cheese and parmesan cheese. Stir quickly so the cheese doesn't get gloppy.
Pour the pasta evenly into the pie shell. Top with remaining 1/2 cup Italian cheese.
Bake for about 25 minutes, or until cheese on top is bubbling and brown.
While baking, grill chicken on stove top in a small amount of cooking oil. Toss chicken before cooking in pepper, salt, garlic powder, onion powder, and Italian seasoning.
Make the alfredo sauce as well.
When pasta comes out of oven, top with chicken and alfredo sauce. Reserve extra alfredo sauce for people to add.
Alfredo Sauce
3 oz wt butter
1 TBSP Garlic
2 TBSP All Purpose Flour
1 1/2 cup milk
1 1/2 cup heavy cream
1/2 cup imported Parmesan cheese, grated
1/2 cup imported Romano cheese, grated
Salt and black pepper to taste
Sautee the butter and garlic in a saucepan on medium heat. Cook for 1 minute, stirring occasionally.
Add the remaining ingredients to saucepan and stir occasionally until the sauce begins to simmer. Remove from heat.
Serve the Alfredo sauce over your favorite pasta, like fettuccine, linguine or bow tie.
Note: The key to making the best alfredo sauce is quality ingredients like a good butter and freshly grated parmesan cheese. Your alfredo sauce will be as good as the ingredients you put into it.