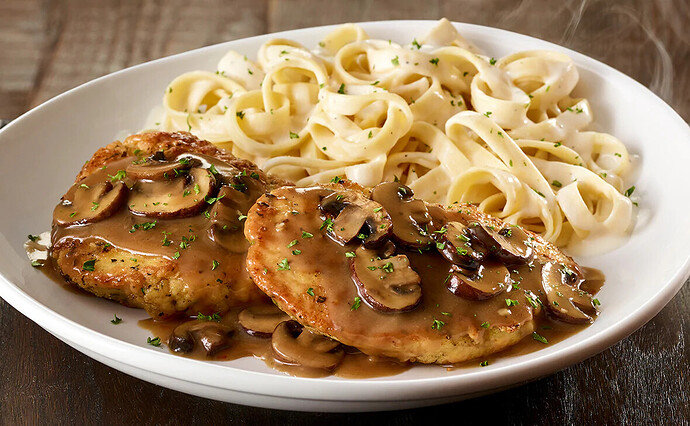 Mushrooms were on sale at my local grocery this week, so I figured why not try out this classic Olive Garden dish! I was able to prepare this in a flash and for a fraction of the cost of eating out.
Ingredients:
4 Chicken half breasts – boneless, skinless
1/4 C. cake flour (Wondra)
1/2 tsp. Salt
1/2 tsp. Oregano
4 Tbsp. Oil
4 Tbsp. Butter
1/2 tsp. Pepper
1 C. Fresh Mushrooms, sliced
1/2 C. Marsala Wine
Preparation:
Combine flour, salt, pepper, and oregano in a shallow dish. Heat the oil and butter in a skillet until it begins to bubble lightly. Dredge the chicken in the flour, coat evenly. Cook the chicken on medium heat for about 2 minutes on the first side, until lightly brown.
As you flip the breasts to the second side, add the mushrooms around the chicken pieces. Cook about 2 more minutes, until lightly browned on the second side. Stir the mushrooms.
Once the second side is lightly browned, add the wine around the pieces, cover the pan and simmer for about 10 minutes.
Transfer to plates and serve.