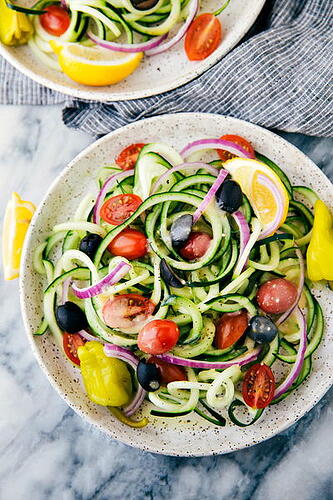 1 large cucumber
1 cup cherry tomatoes
1/2 cup sliced black olives
1/2 red onion
1 avocado
1/3 cup banana peppers
Optional: Pepperoncinis, fresh lemon, freshly grated Parmesan cheese
Dressing
2 tablespoons freshly grated Parmesan cheese
1/4 cup olive oil
3 tablespoons regular mayo
2 tablespoons white wine vinegar
1 tablespoon freshly squeezed lemon juice
1 packet (.6 ounces) Zesty Italian dressing mix, to taste
Freshly cracked pepper
Spiralize the cucumber or slice into thin rounds if you don't have a spiralizer.
Halve the cherry tomatoes and slice the olives. Thinly slice the red onion and chop the avocado.
Toss the spiralized cucumber with the tomatoes, olives, onion, avocado, banana peppers, and pepperoncinis if desired. Squeeze fresh lemon over salad.
For the dressing: combine all the ingredients in the blender (start with only 1/3 the packet of Italian dressing mix) and blend until completely smooth. Taste and add the dressing mix to personal preference. (We like the whole packet but it is quite salty!) Add a generous pinch of sugar if desired and freshly cracked pepper.
Toss the salad with the dressing & freshly grated Parmesan cheese and enjoy immediately.
Only top the salad with dressing right before enjoying.