-A Repost
At first I had to question the use of grape jelly in this recipe. But after trying it, I question no more! This recipe combines tender eggplant with a sweet tomato sauce topped with a nice amount of cheese. How can you go wrong?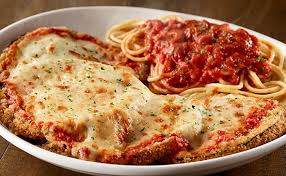 1 large eggplant, peeled, and cut into 1/4-inch thick slices
Flour, for dusting
Oil, for frying
Seasoned salt, to taste
1 (16 ounce) jar meat-flavored sauce
1/4 cup grape jelly
1 (14 ounce) can sliced-style stewed tomatoes
8 slices mozzarella cheese
Moisten eggplant slices and coat lightly in flour and dust with salt. Brown slices in hot oil. When fork tender and golden brown transfer to a jelly roll pan. Cover loosely with foil and bake at 375 degrees F for about 20 minutes or until tender. You should have about 8 slices of eggplant.
For the Sauce: In a saucepan, combine sauce, jelly and tomatoes that have been broken up with a fork. Heat on medium until hot, but do not boil. Make sure the jelly is melted.
Arrange 2 eggplant slices on each plate. Cover each with 2 slices of mozzarella. Ladle sauce over all, not to cover completely. Place plates in 375 degrees F oven to melt the cheese, and serve right away.
Yields 4 servings.