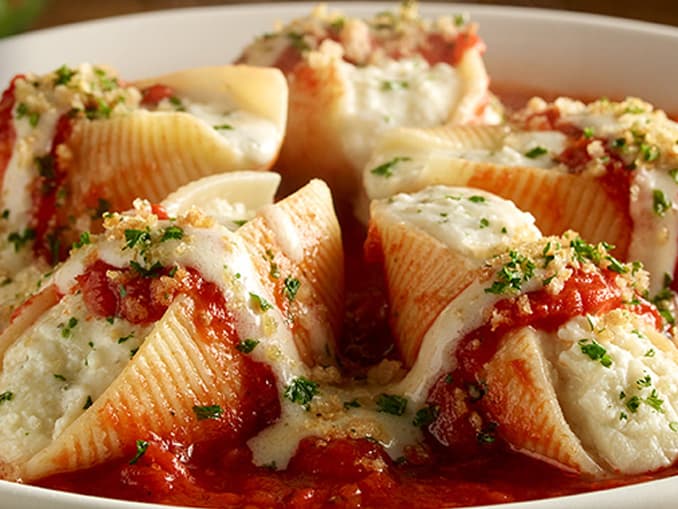 Toasted Breadcrumbs
¼ cup bread crumbs
2 teaspoons butter
Pasta Shells
15 jumbo pasta shells
Pasta Filling
2 cups full fat ricotta cheese
1 cup Italian blend shredded cheese
1 egg
Pasta Sauce
24 ounces marinara sauce
Alfredo Sauce
4 ounces heavy cream
3 ounces butter
3 ounces shredded parmesan cheese
Garnish
2 teaspoons chopped fresh parsley
Preheat oven to 350 degrees.
Toasted Breadcrumbs
Melt 2 teaspoons of butter in the microwave. Pour the melted butter over ¼ cup of breadcrumbs. Stir to combine.
Spread out the buttered breadcrumbs on a baking sheet and place in the hot oven for about 6 to 8 minutes or until the breadcrumbs begin to brown.
Remove the breadcrumbs from the oven. Place the browned breadcrumbs in a small dish.
Pasta Shells
Cook the pasta shells according to the package directions.
Pasta Sauce
While the pasta is cooking, heat the marinara sauce on the stovetop in a medium-sized pot over medium-low heat.
Pasta Filling
Make the filling by whisking the egg in a small bowl. Add the ricotta cheese and Italian cheese blend of cheese and stir to combine the cheese mixture.
Alfredo Sauce
Place 3 ounces of butter, and 3 ounces of heavy cream in a small pot over medium-high heat.
When the cream begins to bubble, add the parmesan and stir until the cheese has melted. Reduce the heat to low and simmer the mixture.
To Assemble the Dish
Stuff 15 shells with ricotta cheese filling.
Pour 1 cup of sauce into the bottom of 3 pasta bowls or pie plates.
Lay 5 stuffed shells on top of the marinara sauce in each of the bowls.
Pour just enough alfredo sauce over the shells to partially cover them.
Place the bowls or pie plates in the oven until the shells are heated through, about 20 minutes.
Garnish with toasted breadcrumbs and chopped fresh parsley.