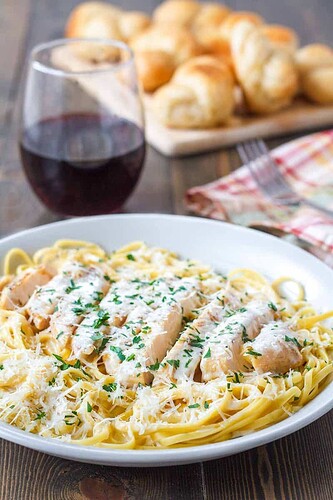 2 teaspoons olive oil
12 ounces chicken breast
1/2 teaspoon salt
1/4 teaspoon black pepper
2 cups heavy cream
4 ounces butter
3/4 cup grated Parmesan cheese
1/2 teaspoon garlic powder if desired
8 ounces Fettuccine or other pasta prepared according to package directions
Preheat the grill to medium-high heat.
Brush the chicken breasts with oil and season them with salt and pepper. Grill for 5 to 7 minutes on the first side. Flip the chicken breasts and grill for another 3 to 4 minutes, or until cooked through. Remove the chicken from the grill and set aside. Cut the chicken into slices when ready to serve.
To make the alfredo sauce, warm the cream and butter in a saucepan over medium-high heat until small bubbles begin to form. Do not let the mixture come to a boil. Add the Parmesan cheese and whisk quickly. Add the garlic powder, if desired, and continue to whisk. The sauce will thicken after a minute or two.
To serve, place half of the prepared pasta on each plate. Then top the pasta with sauce and sliced chicken breast.