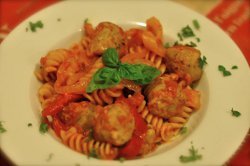 I love Italian Sausage prepared most any way.
1 pound Italian Sausage
2 bell peppers you can use red, green, yellow, or orange
1 cup of sliced onion you can use white or yellow
1 jar 26 ounce jar of marina sauce (I recommend Barilla Spicy Marina)
1/4 - 1/2 teaspoon red pepper flakes (optional)
1/2 teaspoon salt
2 tablespoons olive oil
1 pound dry penne pasta

In a large skillet over medium heat, pour 1 tablespoon of olive oil, slice sausage into bite size pieces and cook sausage until browned. Remove sausage from pan and set aside. Add remaining 1 tablespoon of olive oil to pan and add sliced peppers and onions and season with salt and cook until onions are transparent, and the peppers have cooked until they are tender. Add browned sausage to pan and stir thoroughly. If you want this to be spicy add red pepper flakes 1/4 to 1/2 teaspoon depending on how spicy you want. Add sauce to pan and heat well. Add 1/2 cup shredded mozzarella cheese and stir in melted cheese. Pour this over cooked pasta and mix well.