It's always enjoyable when you can easily prepare a home cooked meal. This Secret Recipe is an excellent dish that will feed the whole family. Olive Garden's herb roasted chicken comes out perfectly moist and tender in just 6 steps. Every bite is full of fresh vibrant flavors of rosemary, sage, thyme and lemon.
And how about some Broccoli and Cheese topped Potatoes to go with this dish.
Enjoy!
=-=-=-=-=-=-=-=-=-=-=-=-=
New Secret Recipe Alert
=-=-=-=-=-=-=-=-=-=-=-=-=
Olive Garden Herb Roasted Chicken in 6 Steps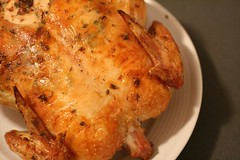 Ingredients:
1 (3½-4lb) roasting chicken
Extra virgin olive oil
6 large fresh rosemary sprigs
6 bunches fresh sage
6 bunches fresh thyme
Kosher salt to taste
Black pepper- to taste
Crushed red pepper- optional
1 lemon, cut into wedges
Baking Instructions:
Pre-heat oven to 375 degrees F.

Strip leaves from 1 bunch each of the rosemary, thyme and sage. Chop well.

Empty cavity of the chicken and pat dry with a paper towel. Rub chicken with olive oil. Sprinkle on half of the chopped herbs. Add salt and pepper. Rub chicken to evenly distribute herbs and seasonings.

Place half of the remaining herbs on a roasting tray. Put chicken on top of the herbs, and the remaining herbs inside the cavity.

Roast the chicken approximately 1 hour at 375 ºF, or until meat thermometer reads 165ºF at the deepest part of the thigh, and juices run clear.

Transfer to serving platter. Garnish with lemon wedges and serve immediately.
Serves 4
Source: Olive Garden
Until Next Time… Be Well!
RSN
=-=-=-=-=-=-=-=-=-=-=-=-=-=-=-=-=-=-=-=-=-=-=-=-=-=
Your OMAD should be a Vegan Protein Smoothie
=-=-=-=-=-=-=-=-=-=-=-=-=-=-=-=-=-=-=-=-=-=-=-=-=-=