Are you ready to elevate your at-home cooking game with a recipe straight from the kitchen of one of your favorite restaurants? Look no further than this delicious lobster pasta dish, inspired by the classic recipe from Olive Garden.
Succulent lobster in a slightly spicy sauce with spinach and tomatoes served over spaghetti. Pour a couple glasses of Chardonnay, light a few candles, and you're all set. If you're unable to get your hands on some fresh lobster, you can easily substitute king crab legs in this dish.
For some more creative ways to enjoy lobster, browse these recipes on our forum: Go Here
Enjoy!
=-=-=-=-=-=-=-=-=-=-=-=-=-=-=-=-=-=-=-=-=-=-=-=-=-=-=-=-=-=-=-=-=-=
Enjoy Delicious Bread, Sandwiches and Pizza with the Paleo Hack
=-=-=-=-=-=-=-=-=-=-=-=-=-=-=-=-=-=-=-=-=-=-=-=-=-=-=-=-=-=-=-=-=-=
=-=-=-=-=-=-=-=-=-=
New Secret Recipe
=-=-=-=-=-=-=-=-=-=
Olive Garden Lobster Spaghetti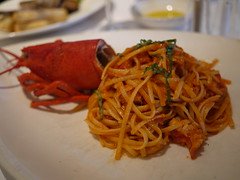 Ingredients:
2 lobsters (1.5 lbs each)
2 Tbsp Extra-virgin olive oil
1 medium yellow onion, diced
1 Tbsp garlic, chopped
1/8 tsp crushed red pepper
1 cup white wine
¼ cup sherry
1 6-oz pack fresh spinach
3 roma tomatoes, diced
1/2 stick cold butter, cut into pieces
Sea salt to taste
Pepper to taste
12 oz spaghetti, cooked according to package directions
Instructions:
Heat water in a very large stock pot until boiling.

Place 1 lobster, head first, into boiling water. Allow to boil for 10 minutes. Remove from water and allow to cool slightly. Repeat process for other lobster. Once lobsters are cool enough to handle, cut lobsters in half lengthwise.

Combine onion, garlic and extra virgin olive oil in a separate large pan. Simmer for 5 minutes. Add crushed red pepper, white wine, sherry and the halved lobsters. Cover and allow to simmer for 15 minutes. Remove lobster from sauce.

Twist off two front claws where they join the body. Using the back of a knife, crack claws and remove meat from tail and body.

Add spinach, tomatoes and butter to sauce. Bring to a boil and allow to simmer for 10 minutes. Add lobster tail and claw meat. Allow to cook for 5 minutes. Season to taste with salt and pepper.

Coat cooked, drained pasta with sauce, transfer to large bowl (or individual dishes), top with lobster and remaining sauce. Garnish with lobster shells.
Serves 4
Have a comment or question about this recipe? Post it here
Source: Olive Garden
Get more secret restaurant recipes on our Secret Recipe Forum: Go Here
Like Copycat Recipes? Get our Secret Recipes Special 2 for 1 Sale - Cookbooks Here.
Until Next Time… Be Well!
Kind Regards,
RSN