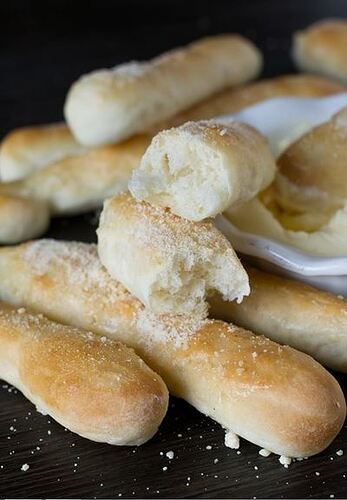 These buttery breadsticks are one reason everyone goes to Olive Garden. Never cheat - use REAL butter for that fabulous flavor.
2 packages (1/4 oz each) active dry yeast
½ cup sugar, divided
2 cups warm water, divided
3 tablespoons canola oil
1 egg
1 teaspoon salt
4½-5 cups flour
½ cup butter, softened
2 tablespoons grated Parmesan cheese
½ teaspoon garlic powder
In a stand mixer bowl, dissolve yeast and 1 tablesppon sugar in a 1 cup warm water. Add the oil, egg, salt, 2 cups of flour and remaining sugar and water. Beat on medium speed with paddle attachment until smooth. Stir in remaining flour, enough to form a soft dough. Using the dough hook attachment, knead the bread on medium speed for 6-7 minutes. Place in a greased bowl, turning once to grease the top. Cover and let the dough rise in a warm place until doubled, which will take about 30-40 minutes. Punch the dough down. Turn it onto a floured surface and divide the dough into about 36 pieces. Shape each piece into a 6-8 inch rope. Place them onto greased baking sheets. Cover and let it rise until doubled, about 25 minutes. Bake at 400 degrees for 10-12 minutes, or until golden brown.
In a small bowl, combine the butter, Parmesan cheese and garlic powder. Brush on the warm breadsticks, or serve it along side the breadsticks.
Makes: 36 8-inch breadsticks