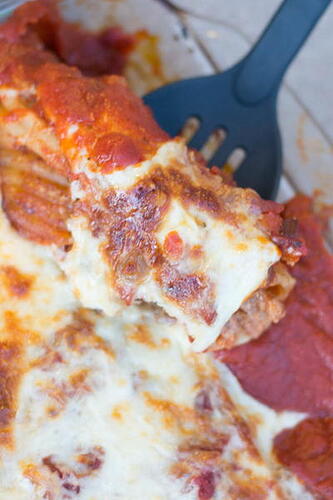 Olive Garden Bolognese Sauce
8 ounces tomato sauce
1.5 lb Italian sausage
3/4 cup bread crumbs
3 eggs
1/3 cup milk
¼ cup grated parmesan cheese
1.5 boxes Manicotti or other LARGE tube-shaped pasta uncooked
1 1/2 cup shredded mozzarella cheese
Start making the bolognese sauce about an hour before you want to put the pasta in the oven.
Cook and crumble sausage into small pieces. Drain. Add bread crumbs.
Whisk together eggs and milk. Remove sausage from heat and mix with mixture and parmesan cheese.
Put a thin layer of the bolognese on the bottom of a large glass baking dish.
Stuff each piece of tube pasta with the sausage mixture and place in baking dish.
Cover with bolognese and then cover with mozzarella cheese. Make sure the manicotti is completely covered in sauce (add additional water if needed).
Cover with tin foil.
Bake at 350 for 40 minutes, remove tin foil, and bake for 10-15 minutes more.
Bolognese Sauce
2 Tbsp olive oil
1 onion, finely chopped
1 carrot, finely chopped
1 celery stalk, finely chopped
2 garlic cloves, finely chopped
1/2 lb ground beef
6 oz Italian sausage, skinned
1 cup red wine
18 oz can crushed tomatoes, chopped (ground)
1 tsp fresh rosemary, chopped (1/4 tsp dry)
1 tsp fresh sage, chopped (1/4 tsp dry)
Salt to taste
Pepper to taste
HEAT oil in a large pan. Add celery, carrot, onion, garlic and cook about 5 minutes. Add meat and cook 10 minutes over medium heat, stirring occasionally.
DEGLAZE pan with wine; let reduce. Add tomatoes and remaining ingredients and stir. Simmer for about 1 hour.