Olive Garden Spinach and Artichoke Dip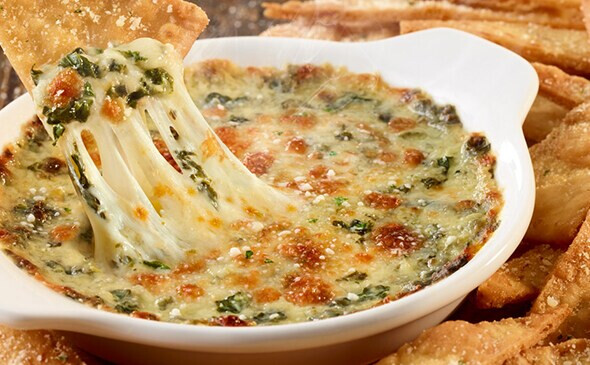 Yield: 4 servings
1 can (14 ounces) artichoke hearts, drained and sliced
1 pound cream cheese, room temperature
8 ounces mascarpone cheese, room temperature
2 tablespoons all-purpose flour, sifted
1 cup grated Parmesan cheese
1/4 teaspoon fresh thyme leaves
1/4 teaspoon crushed red pepper
1 tablespoon chopped fresh flat leaf parsley
1 garlic clove, minced
5 green onions, chopped
Salt and ground black pepper, to taste
1 bunch (about 6 ounces) fresh spinach, chopped
8 slices crusty Italian bread
Extra virgin olive oil (to drizzle)
Procedure:
1.Preheat oven to 325 degrees. Mix all ingredients in a large bowl, except
bread and extra virgin olive oil.
2.Spray a non-stick 9-by-9-inch baking pan with cooking spray.
Fill pan with mixture and bake for about 25 minutes, or until mixture is
bubbling and center is hot.
Drizzle both sides of bread with extra virgin olive oil.
Grill bread on both sides.

Sprinkle top of hot dip with Parmesan cheese.
Serve with grilled bread.
Source: Olive Garden website; reprinted in the
Orange County Register newspaper; March 26, 2008