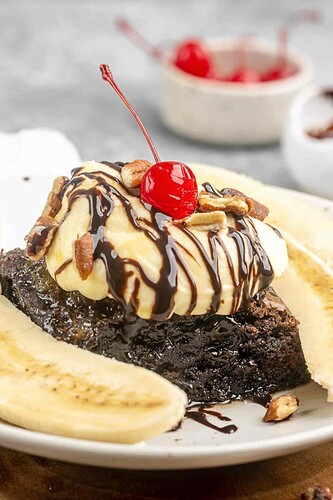 1 package (16.3 ounces) brownie mix plus ingredients on the package
1 envelope Dream Whip Whipped Topping Mix
1 1/2 cups milk divided use
1 package (4 serving size) instant banana pudding mix
1/2 cup pineapple topping
8 bananas
1 cup whipped cream
1/2 cup chocolate topping
1/2 cup chopped nuts
1/2 cup maraschino cherries
Prepare the brownie mix according to the package directions.
Combine the whipped topping mix with 1/2 cup of milk and beat with an electric mixer at high speed for 5 minutes. Transfer the topping to a separate bowl and reserve. Do not wash the mixer bowl.
To make a banana mousse, add the pudding mix and 1 cup of milk to the mixer bowl. Mix on low speed for 2 minutes. Fold the whipped topping into the pudding by hand or on very low speed until well mixed. Chill while assembling the banana splits.
Place a brownie in the bottom of a large bowl and spread pineapple topping over the brownie. Split a banana in half lengthwise and place it next to the brownie, on either side. Spoon the desired amount of banana mousse over the brownie and top with whipped cream, chocolate topping, nuts, and a cherry.