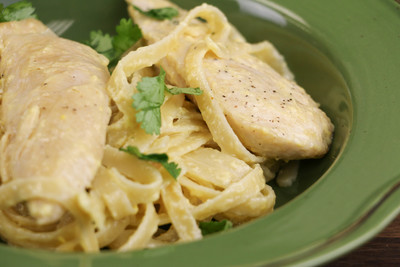 1 pound fettuccine
2 pounds chicken breast or strips
2 tablespoons olive oil
1/4 cup butter (1/2 stick)
1/2 onion, chopped
2 cloves garlic , minced
1 cup white wine
1 cup heavy cream
3 egg yolks
3/4 cup Parmesan cheese
1/4 teaspoon dried parsley flakes
salt and pepper, to taste
Lightly season the chicken breasts with salt and pepper. Heat 2 tablespoons of olive oil in a skillet. Sautee the chicken breasts over medium heat until cooked through. Set aside the cooked chicken.
In a heavy bottom saucepan, heat ¼ cup butter and add the chopped onion. Let the onion simmer for 2 minutes, then add the minced garlic. Let simmer one more minute.
Add the wine and heat until the alcohol cooks off, about 2 minutes. Continue stirring throughout.
Place egg yolks in a separate bowl and slowly whip in a portion of the hot cream mixture. Slowly add egg yolk mixture back into remaining cream mixture in the saucepan. Place the saucepan back on very low heat and stir until simmering. Add the Parmesan cheese and stir until thick, about 1 minute.
Add the dried parsley flakes and season to taste with salt and black pepper. Serve over your favorite pasta.
Substitutions: You may omit the egg yolks from the recipe to make your dish less rich.