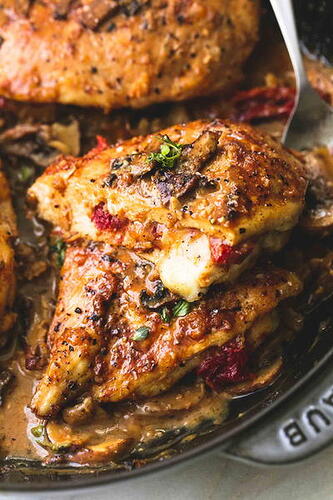 Cheese Stuffing
1/2 cup smoked shredded cheese (provolone or gouda)
8-oz package mozzarella cheese, shredded
1/4 cup Parmesan cheese, grated
1/2 cup breadcrumbs
1 tsp fresh garlic, minced
1/4 tsp red pepper flakes, crushed
2 Tbsp sun-dried tomato, chopped (drain first if in oil)
1/3 cup green onions, thinly sliced
3/4 cup sour cream (6 oz)
1/2 tsp salt
1/2 tsp black pepper
Sauce
1/2 large red small onion, finely chopped
1-2 cloves garlic, minced
2 cups Marsala wine
1 cup heavy cream
1 8oz container of cremini mushrooms, thinly sliced
Salt and pepper to taste
2 lbs skinless, boneless chicken breasts
4 fl oz olive oil for frying
2 cups all-purpose flour
Pre-heat oven to 350°F and have a baking dish ready.
Combine all the cheese stuffing ingredients in a mixing bowl and set aside.
To prepare the chicken, butterfly the thickest section of chicken breasts to create 2 halves. Place each breast in a large ziptop storage bag and pound it with the flat side of a meat mallet until ¼" - ½" thick.
Place the flattened chicken breasts on a plate and add a desired amount of cheese stuffing on one half of each chicken breast. Try not to overfill. Gently press stuffing down and fold over other half of chicken breast; it does not have to seal.
You may have some extra cheese stuffing leftover. One way to use it up is to top slices of Italian bread and bake until the cheese melts - it makes a great snack or appetizer!
Place flour in a shallow pan and season to taste with salt and pepper. Dredge stuffed chicken breasts in flour, shaking off excess.
In a cast iron skillet over medium heat, add oil and heat until shimmering.
Saute the flour coated chicken breasts in the preheated oil, cooking until each side is golden brown. Remove chicken from pan and place in the baking dish you have on hand.
Bake the browned chicken in the preheated oven for 10-20 minutes, or until juices run clear and the center of chicken reaches 165°F.
Meanwhile, add the onions and garlic to the cast iron skillet and stir to loosen chicken drippings. After 2 minutes, add mushrooms and fresh chopped parsley. Sauté until the onions are translucent and the mushrooms begin to caramelize.
Add the Marsala wine to the skillet to deglaze the pan – make sure to incorporate drippings from bottom of pan. Allow the Marsala to come to a simmer and then add the heavy cream. Simmer on low heat until reduced by half. Place the cooked chicken breasts on a plate and top each with this Marsala-mushroom sauce.