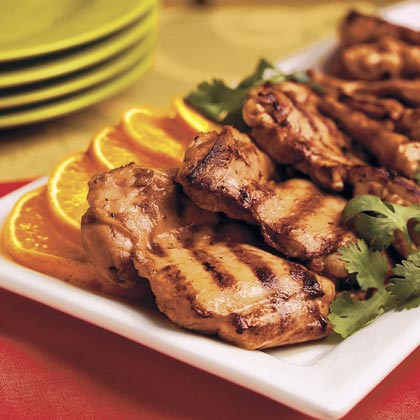 1/3 cup orange juice
3 tablespoons rice wine vinegar
3 tablespoons lite soy sauce
1 tablespoon minced garlic
1 tablespoon minced fresh ginger
1 tablespoon sesame oil
8 skinned and boned chicken thighs
Garnishes: fresh cilantro sprigs, orange slices
Combine orange juice and next 5 ingredients in a shallow dish or large zip-top freezer bag; add chicken.
Cover or seal, and chill at least 1 hour, turning occasionally.
Remove chicken thighs from marinade, and discard marinade.
Grill, covered with grill lid, over medium-high heat (350° to 400°) 4 minutes on each side or until done.
Garnish, if desired.