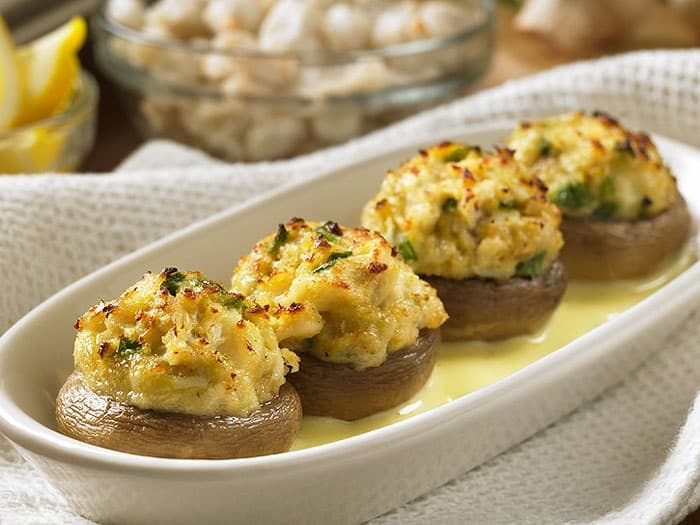 Crab Stuffed Mushrooms
1 doz mushrooms (stems removed and saved for later)
4 Tbs butter
2 Tbs sweet red pepper chopped
1 Tbs fresh chives chopped
1/2 tsp Cajun seasoning or Old Bay
1 6oz. can Crab meat (or could use fresh lumped crab meat)
5-6 Tbs Panko bread crumbs
*add a little bread crumbs and melted butter to tops of mushrooms before baking.
Wash mushrooms, remove stems and place mushrooms on lightly greased baking pan.
In a skillet melt butter, add sweet pepper, Cajun seasoning and about 4-5 mushroom stems that have been coarsely chopped. Saute for 3 to 4 minutes, add chives and mix well. Then add bread crumbs, mix, then finally stir in the crab meat.
Spoon crab meat mixture into mushrooms, sprinkle with a little bit of bread crumbs and drizzle with melted butter. Place in 350 degree oven for approx 17-20 minutes or until thermometer reads 165 degrees.
Lemon Butter Sauce with Capers
Juice from 1 lemon
1 tsp grated lemon rind
1/4 cup butter
1/2 cup dry white wine
2 tsp corn starch
1 Tbs Capers
Salt and Pepper to taste
In a sauce pan, melt butter. Add lemon juice and grated rind. Bring to boil. Mix the white wine and corn starch in small bowl and add to boiling mixture. Reduce heat, stir until slightly thickened, add capers, salt and pepper.