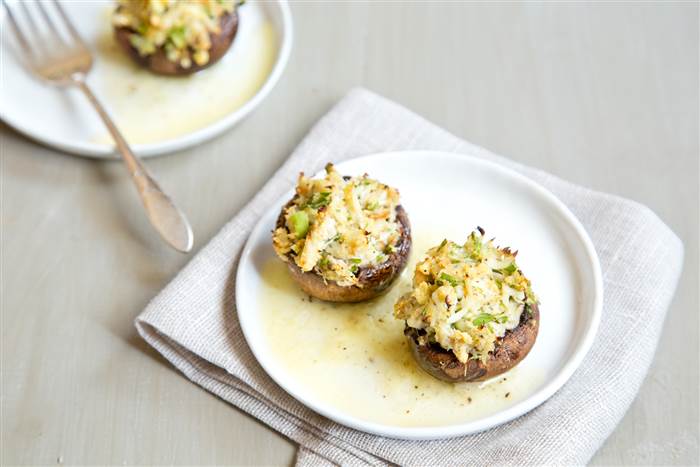 12 large crimini/baby bella mushrooms, cleaned
3/4 cup backfin crabmeat
3/4 cup fresh breadcrumbs
2 large scallions, minced
1 tablespoon minced parsley or celery tops (with leaves)
1/4 teaspoon salt
1/4 teaspoon pepper
2 tablespoons milk
2 tablespoons unsalted butter
1 tablespoon fresh lemon juice
1/2 teaspoon cornstarch
Preheat the oven to 375 degrees F.
Pop the stems out of the mushrooms and scrape out the inner gills with a spoon or tip of a paring knife. Place the mushroom caps stem-side-up on a baking sheet.
Stir the crab, breadcrumbs, scallions, parsley, salt and pepper together in a bowl. Stir in the milk until the filling is moistened.
Scoop the crab filling into the mushrooms, dividing it evenly between the open caps. Bake for about 15 minutes, until the filling is browned and golden on top.
Let the mushrooms rest while you make the sauce: Melt the butter in a saucepan over low heat. Whisk the lemon juice and cornstarch in a small bowl, then whisk into the melted butter. Continue to whisk until the sauce comes together.
Drizzle the sauce over the mushrooms and serve.