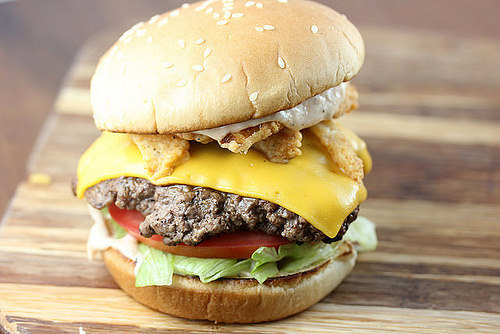 ½ cup mayonnaise
1 tablespoon ketchup
2 tablespoons cream-style horseradish sauce
1/3 teaspoon paprika
¼ teaspoon salt
1/8 teaspoon dried oregano
1 pinch ground black pepper
1/3 teaspoon cayenne pepper
Blooming onion strips
1 egg
1 cup milk
1 cup all-purpose flour
1 ½ teaspoons salt
1 ½ teaspoons cayenne pepper
1 teaspoon paprika
½ teaspoon ground black pepper
1/3 teaspoon dried oregano
1/8 teaspoon dried thyme
1/8 teaspoon ground cumin
1 medium sweet onion
¾ cup vegetable oil (for frying)
Burgers
2lbs ground beef
4 slices American cheese
4 sesame seed hamburger buns
lettuce
tomato
To prepare the sauce: In a medium bowl, combine mayonnaise, ketchup, horseradish, 1/3 teaspoon paprika, ¼ teaspoon salt, 1/8 teaspoon oregano, a dash of ground black pepper and a dash of cayenne pepper. Mix well. Cover and refrigerate until needed.
Slice the onion into strips. To prepare the batter: In a medium bowl beat the egg and milk together. In a separate bowl combine flour, salt, cayenne pepper, paprika, ground black pepper, oregano, thyme and cumin. Mix well.
Dip the onion strips first into the milk mixture and then coat with the flour mixture. Dip the onion strips into the milk mixture one more time and then coat with the flour mixture again.
Heat oil in a deep-fryer or large pot to 350 degrees F. Fry the onion strips in batches until golden brown. Drain on paper towels.
Form the ground beef into 4 patties. Season on both sides with salt and pepper.
Heat a griddle or large skillet and brush it with vegetable oil or spray it with cooking spray. Add the buns to the griddle cut-side down. After they are golden brown on the bottom, remove them from the griddle.
Add the hamburger patties to the griddle and cook until the burgers are fully cooked, (the internal temperature has reached 160 degrees F.) turning as needed. During the last few minutes of cooking top each burger with a slice of American cheese and cook until the cheese has until melted.
To assemble the burgers: Place some lettuce onto the top of the bottom half of the bun. Top with tomato, a hamburger patty, and some of the fried onion strips. Spread a layer of the bloomin' onion sauce onto the bottom of the top half of the bun. Place the top half of the bun over the fried onions.