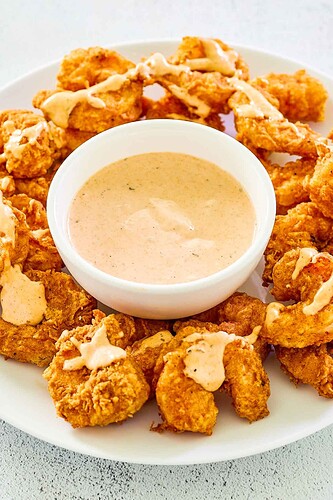 Bloom Sauce
1/2 cup mayonnaise
2 teaspoons ketchup
2 tablespoons horseradish or a little less
1/4 teaspoon paprika
1/4 teaspoon salt
1/8 teaspoon garlic powder
1/8 teaspoon dried oregano
1 dash ground black pepper
1 dash cayenne pepper
Fried Shrimp
2 cups all-purpose flour
4 teaspoons paprika
2 teaspoons garlic powder
1 teaspoon salt
1/2 teaspoon ground black pepper
1/2 teaspoon cayenne pepper
1 cup buttermilk
1/2 cup water
1 pound peeled medium-sized raw shrimp
vegetable oil for frying
Prepare the bloom sauce by combining all the sauce ingredients in a small bowl. Stir well. Cover and place in the refrigerator until ready to serve.
Create a dredging station: Place the flour, paprika, garlic powder, salt, ground black pepper, and cayenne pepper into a pie plate and stir to combine. Place the buttermilk and water into another pie plate and stir to combine. Place a wire rack on top of a cookie sheet.
Dredge the shrimp in the seasoned flour and shake off the excess. Then dip the dredged shrimp into the buttermilk and shake off the excess. Dip the shrimp into the seasoned flour for a second time and place the breaded shrimp onto the wire rack. Repeat for the remaining shrimp and let them rest for about 5 minutes before cooking.
Pour the vegetable oil into a skillet until it reaches a depth of 1 to 2 inches. Heat the oil to 350°F.
Place a few pieces of shrimp into the oil and fry until done, about 1 to 2 minutes. Turn the shrimp over while frying to make sure both sides of the shrimp are golden brown. Then remove the shrimp from the oil and let them drain on a clean wire rack.
To serve, place the shrimp on a plate and drizzle some of the bloom sauce on top.