A delicious dish that blends spices and flavors from various Asian cuisines. It's a versatile recipe that can be customized to suit your dietary preferences and taste preferences.
Whether you prefer chicken, beef, shrimp, vegetables, or tofu, this recipe is easily customizable. You'll love how simple it is to make and how amazing it tastes.
Give this recipe a try and let me know what you think. If you have any feedback or suggestions for how to make it even better, we're all ears!"
Enjoy!
=-=-=-=-=-=-=-=-=-=
Secret Recipe Alert
=-=-=-=-=-=-=-=-=-=
P.F. Chang's Ginger Chicken Stir-Fry Romaine Wraps with Citrus Soy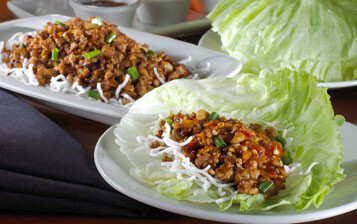 Ingredients:
1 pound chicken
3 tablespoons fresh ginger, minced
1 tablespoon garlic, minced
1/2 teaspoon dry chili flakes
3 tablespoons soy bean oil or vegetable oil
2 heads romaine lettuce, cleaned
1/2 cup fresh orange juice
1 tablespoon fresh lime juice
1 tablespoon fresh lemon juice
1/4 cup soy sauce
1 tablespoon hoisin sauce
1 ounce scallions, sliced thin
2 tablespoons soy sauce
Cooking Instructions:
Dice the chicken into tiny pieces. Place the chicken in a mixing bowl and add 2 tablespoons soy bean oil, ginger, garlic, chili flakes and 2 tablespoons soy sauce. Mix together in circular motion until well mixed. Let marinate in refrigerator for 2-4 hours.

Mix together the citrus juices, soy, and hoisin sauce with a whisk.

Reserve until needed. Clean the romaine lettuce, chopping off the stem, peeling each 'spear' and running under clean cold water.

Reserve in refrigerator until ready to use. Chop scallions into rings and reserve chilled.

Coat a very hot sauté pan lightly with soy bean oil. Lay the chicken around the sauté pan being careful not to lay too many on top of each other. Sear the chicken until crispy and golden brown, about 2 1/2 minutes. Once chicken is brown, toss gently in pan and sear another 2 ½ minutes. The pan will appear to "burn", but that is the caramelization and where all the flavor comes from.

Add 1/2 of the citrus soy mixture to the sauté pan and coat well.

Let the sauce coat the chicken until it is glazed, and thickens on the chicken. Add more or less depending on how "wet" you want your mixture. Spoon chicken onto a plate.

Wrap the chicken mixture in romaine lettuce and top with scallion rings. Serve and enjoy!
Source: P.F. Chang's
Until Next Time… Be Well!
RSN
=-=-=-=-=-=-=-=-=-=-=-=-=-=-=-=-=-=-=-=-=-=
The Alpine Secret For Healthy Weight Loss.
=-=-=-=-=-=-=-=-=-=-=-=-=-=-=-=-=-=-=-=-=-=